John Ryan is the president and chief executive officer of the Conference of State Bank Supervisors, the national organization of financial regulators from all 50 states and U.S. territories.  Since becoming president and CEO in 2011, Mr. Ryan has provided strategic leadership in advancing the system of state financial supervision. 
Mr. Ryan previously served as CSBS's Executive Vice President, and Assistant Vice President of Legislative Affairs. Mr. Ryan also led the financial services consulting practice at a public affairs firm, and worked on the U.S. House Banking, Finance and Urban Affairs committee. He has a B.A. in political science and economics from the University of California at Berkeley.
*****
A person listed as a contributor has spoken or otherwise participated in Federalist Society events, publications, or multimedia presentations. A person's appearance on this list does not imply any other endorsement or relationship between the person and the Federalist Society. In most cases, the biographical information on a person's "contributor" page is provided directly by the person, and the Federalist Society does not edit or otherwise endorse that information. The Federalist Society takes no position on particular legal or public policy issues. All expressions of opinion by a contributor are those of the contributor.
International Law and American Sovereignty
T?he Mayflower Hotel
1127 Connecticut Avenue NW
Washington, DC 20036
Financial Services & E-Commerce Practice Group Podcast
Technology is having a significant impact on how financial services are being delivered. The rise...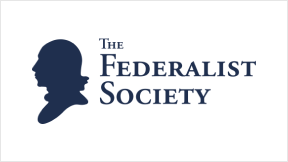 2003 National Lawyers Convention - "International Law and American Sovereignty"
The Financial Services & E-Commerce Practice Group sponsored this panel during the 2003 National Lawyers...