David McIntosh is a leader for the principles of limited constitutional government and individual freedom. He is president of the Club for Growth, the leading advocate for economic liberty.

Former Congressman David McIntosh represented Indiana's 2nd Congressional District in the United States Congress from 1995-2001. As a Freshman, David chaired the Subcommittee on Regulatory Relief. He passed the Congressional Review Act and held extensive oversight and field hearings to build a record of public support for regulatory relief initiatives in energy, biotechnology, pharmaceutical, healthcare, transportation and technology sectors. Another issue that he championed was the elimination of the marriage penalty in the Federal Tax Code.

David served during the Reagan administration as special assistant to Attorney General Edwin Meese III, and as special assistant to President Reagan for Domestic Affairs. During the first Bush administration, he served as executive director of the President's Council on Competitiveness and assistant to the Vice President. The Competitiveness Council coordinated the cost/benefit review of major regulations and promoted legal reform measures.

David is a co-founder of the Federalist Society for Law and Public Policy and serves on the Board of Directors. He remains active with several free market and conservative think tanks and grassroots organizations. David has also had stints at the Hudson Institute and as a Professor of Economics at Ball State School of Business.

Prior to the Club for Growth, David was a partner at Mayer Brown, LLP in Washington, DC.

David graduated from the University of Chicago Law School in 1983, and Yale University, BA, cum laude, in 1980. He and his wife, Ruthie, are the proud parents of Ellie age 17 and Davey age 13.
*****
A person listed as a contributor has spoken or otherwise participated in Federalist Society events, publications, or multimedia presentations. A person's appearance on this list does not imply any other endorsement or relationship between the person and the Federalist Society. In most cases, the biographical information on a person's "contributor" page is provided directly by the person, and the Federalist Society does not edit or otherwise endorse that information. The Federalist Society takes no position on particular legal or public policy issues. All expressions of opinion by a contributor are those of the contributor.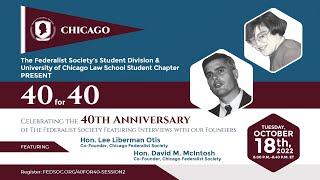 Chicago Law School Student Chapter
The Federalist Society's Student Division & University of Chicago Law School Student Chapter present 40...