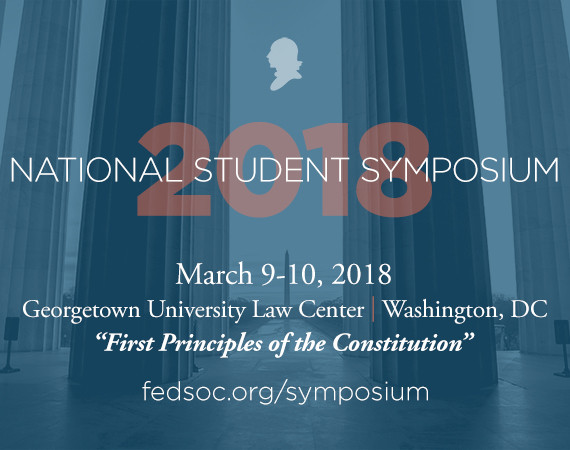 Georgetown Law's Federalist Society Student Chapter hosted the 37th National Student Symposium on March 9-10, 2018. The topic of the Symposium was "First Principles of the Constitution." Video now available!
View this event on Facebook here.
REGISTRATION INFO:
On-line registration is now closed.
On-site registration will be available beginning at 4:00 p.m. on Friday.
JOIN OR RENEW YOUR STUDENT MEMBERSHIP ($5):
https://fedsoc.org/join
Student Symposium Registration (includes all events except the Saturday night cocktail reception and banquet). Please note that the Friday night Supreme Court reception is CLOSED. We are at capacity.
$10 (student members)
$100 (non-students) (Friday night reception is not included for non-students.)
Banquet and Saturday night cocktail reception (This does not include Student Symposium registration):
$55 (student members)

SOLD OUT

$200 (non-students)

SOLD OUT
LODGING:
A block of rooms at a reduced rate are available at the Hyatt Regency Washington on Capitol Hill, 400 New Jersey Ave., N.W., Washington, DC until February 9, 2018. Click HERE to reserve a room or call (202) 737-1234 and indicate that you'd like to make a reservation under the Federalist Society room block. Rates are: Single or Double Occupancy ($179), Triple Occupancy ($204), or Quadruple Occupancy ($229).
50% TRAVEL SCHOLARSHIP FOR DUES-PAYING STUDENT MEMBERS.
(TRAVEL ONLY—does not include lodging)
DOWNLOAD REIMBURSEMENT FORM HERE
Back to top