Justice Clint Bolick serves on the Arizona Supreme Court. He was appointed by Governor Doug Ducey on January 6, 2016. Previously, he was the as the Vice President for Litigation at the Goldwater Institute.
In a recent profile, the New York Times said that Bolick is "known for his aggressive litigation to defend individual liberties."  He has argued and won cases in the United States Supreme Court, the Arizona Supreme Court, and state and federal courts from coast to coast. He has won landmark precedents defending school choice, freedom of enterprise, and private property rights and challenging corporate subsidies and racial classifications.
Before joining the Goldwater Institute in 2007, Bolick was co-founder of the Institute for Justice and later served as president of the Alliance for School Choice.
Bolick helped author the Health Care Freedom Act and the Save Our Secret Ballot amendment, which were added to the Arizona Constitution in 2010 and adopted in several other states. He also has assisted policy activists in several states to establish litigation centers based on the Goldwater Institute model.
In 2003, American Lawyer recognized Bolick as one of three lawyers of the year for his successful defense of school choice programs, culminating inZelman v. Simmons-Harris in the U.S. Supreme Court. In 2009, Legal Times named Bolick one of the "90 Greatest D.C. Lawyers in the Past 30 Years." Bolick received one of the freedom movement's most prestigious awards, the Bradley Prize, in 2006 for advancing the values of democratic capitalism.
Bolick has authored several books, most recently Death Grip: Loosening the Law's Stranglehold Over Economic Liberty (2011) and David's Hammer: The Case for an Activist Judiciary (2007). Bolick teaches Constitutional Law as an adjunct professor at Arizona State University School of Law and serves as a research fellow with the Hoover Institution.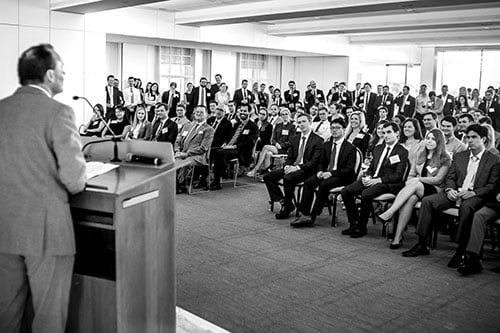 Southern California Student Chapter
The University of Southern California Gould School of Law
699 Exposition Blvd
Los Angeles, CA 90089
Duke Student Chapter
Duke University School of Law
210 Science Dr
Durham, NC 27708
2021 Ohio Lawyers Chapters Conference
The Westin Great Southern Hotel
310 S High St
Columbus, OH 43215
Georgetown Student Chapter
Zoom Webinar -- Georgetown Law
Virtual
Washington, DC 20001
Princeton Student Chapter
Zoom Webinar -- Princeton University
Nassau Street
Princeton, NJ 08540
1999 Stranahan National Issues Forum
On March 26, 1999, the Federalist Society co-sponsored the Stranahan National Issues Forum with the...