Josh Blackman is a national thought leader on constitutional law and the United States Supreme Court. Josh's work was quoted during two presidential impeachment trials. He has testified before Congress and advises federal and state lawmakers. Josh regularly appears on TV, including NBC, CBS, ABC, Fox, and the BBC. Josh is also a frequent guest on NPR and other syndicated radio programs. He has published commentaries in the New York Times, Wall Street Journal, Washington Post, and leading national publications.
Since 2012, Josh has served as a professor at the South Texas College of Law Houston. He holds the Centennial Chair of Constitutional Law. Josh is also an adjunct scholar at the Cato Institute. Josh has authored three books. His latest, An Introduction to Constitutional Law, was a top-five bestseller on Amazon. Josh has written more than five dozen law review articles that have been cited nearly a thousand times. Josh was selected by Forbes Magazine for the "30 Under 30" in Law and Policy. Josh is the President of the Harlan Institute, and founded FantasySCOTUS, the Internet's Premier Supreme Court Fantasy League. He blogs at the Volokh Conspiracy and tweets @JoshMBlackman.
*****
A person listed as a contributor has spoken or otherwise participated in Federalist Society events, publications, or multimedia presentations. A person's appearance on this list does not imply any other endorsement or relationship between the person and the Federalist Society. In most cases, the biographical information on a person's "contributor" page is provided directly by the person, and the Federalist Society does not edit or otherwise endorse that information. The Federalist Society takes no position on particular legal or public policy issues. All expressions of opinion by a contributor are those of the contributor.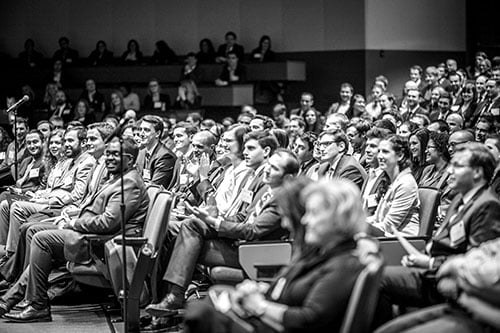 24th Annual Federalist Society Faculty Conference
Marriott Marquis San Diego Marina
333 W Harbor Dr
San Diego, CA 92101
2022 National Lawyer's Convention
Under the Constitution, two branches of government are formally involved in the selection of federal...