Jim Campbell serves as chief legal counsel with Alliance Defending Freedom, where he leads the U.S. Legal Advocacy team. In that role, Campbell oversees all U.S. litigation teams and Allied Legal Affairs.
Prior to joining ADF in March 2023, Campbell was the solicitor general in the office of Nebraska Attorney General Douglas J. Peterson and Michael T. Hilgers. In that role, he represented the state of Nebraska in cases before state and federal courts and oversaw all civil appeals for the state. In February 2023, Campbell argued Biden v. Nebraska before the U.S. Supreme Court, a case in which Nebraska and five other states challenged the Biden administration's attempt to forgive over $400 billion in federal student loans for over 40 million individuals.
Before joining the Nebraska attorney general's office in January 2020, Campbell worked as senior counsel with ADF. In that role, he defended his clients' religious freedom and freedom of speech, with a particular focus on appellate work. Campbell has also authored many articles and legal commentary pieces, including some published by USA Today and The Washington Post.
A native of northeastern Ohio, Campbell earned his Juris Doctor from the University of Akron School of Law, where he graduated summa cum laude in 2006. Following law school, he clerked for the Honorable Alice M. Batchelder of the U.S. Court of Appeals for the 6th Circuit. Campbell is admitted to the state bars of Ohio, Arizona, and Nebraska. He is also admitted to multiple federal district and appellate courts, including the U.S. Supreme Court.
*****
A person listed as a contributor has spoken or otherwise participated in Federalist Society events, publications, or multimedia presentations. A person's appearance on this list does not imply any other endorsement or relationship between the person and the Federalist Society. In most cases, the biographical information on a person's "contributor" page is provided directly by the person, and the Federalist Society does not edit or otherwise endorse that information. The Federalist Society takes no position on particular legal or public policy issues. All expressions of opinion by a contributor are those of the contributor.
Regent Student Chapter
Regent University School of Law
1000 Regent University Dr
Virginia Beach, VA 23464
State Power Review Conference
The Mayflower Hotel
1127 Connecticut Ave NW
Washington, DC 20036
Phoenix Lawyers Chapter
The Newton
300 West Camelback Road
Phoenix, AZ 85013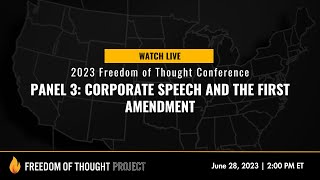 State Power Review Conference
How does the First Amendment apply to corporations? Do First Amendment interests and protections apply...