The Honorable Jennifer M. Perkins began service on the Arizona Court of Appeals, Division One, on October 30, 2017.  At the time of her appointment by Governor Douglas Ducey, Judge Perkins was Assistant Solicitor General for the State of Arizona.
Judge Perkins was born in Portales, New Mexico, and primarily raised in Albuquerque. She attended the prestigious Albuquerque Academy from 1988-1995, before moving to Washington D.C. to attend the Elliott School of International Affairs at the George Washington University as a National Merit Scholar. Therafter, she relocated again to Dallas, Texas, and earned her juris doctor from the SMU Dedman School of Law, graduating cum laude in 2002.
Judge Perkins started her career at the law firm of Browning & Peifer (now Peifer, Hanson, & Mullins) in Albuquerque, New Mexico. While there, she litigated complex commercial matters including class action plaintiff and defense work, and assisted with employment and contract litigation. In 2003, the judge accompanied the Honorable James O. Browning in transitioning to the federal district court bench, serving as his first law clerk.
After her clerkship, Judge Perkins moved to Arizona to work for the Institute for Justice, Arizona Chapter, a public interest law firm. She spent five years with IJ-AZ litigating civil rights cases in Arizona and across the country. In 2009, the judge became Disciplinary Counsel for the Arizona Commission on Judicial Conduct, where she reviewed and prosecuted ethics complaints against state court judges throughout Arizona. After five years serving the state in this capacity, Judge Perkins entered private practice by joining Mandel Young, an appellate law firm in Phoenix. While there, she worked on state and federal appeals involving a wide range of legal subjects, including complex business disputes, property rights, judicial ethics, and personal injury matters.
In January 2015, Judge Perkins joined the Office of the Arizona Attorney General to serve as the first Assistant Solicitor General; in that capacity, she was responsible for oversight of Attorney General Opinions and served as ethics counsel to the entire office. In addition to these two primary roles, the judge assisted on a variety of matters including trial and appellate litigation of election-related matters; federal appellate litigation with the Federalism Unit; state criminal appeals; and drafting amicus briefs on behalf of Arizona in state and federal courts.
*****
A person listed as a contributor has spoken or otherwise participated in Federalist Society events, publications, or multimedia presentations. A person's appearance on this list does not imply any other endorsement or relationship between the person and the Federalist Society. In most cases, the biographical information on a person's "contributor" page is provided directly by the person, and the Federalist Society does not edit or otherwise endorse that information. The Federalist Society takes no position on particular legal or public policy issues. All expressions of opinion by a contributor are those of the contributor.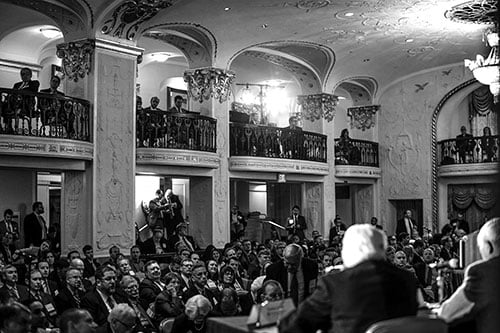 Arizona Biltmore
2400 E Missouri Ave
Phoenix, AZ 85016
Arizona State Student Chapter
Sandra Day O'Connor College of Law, Arizona State University
111 E. Taylor St.
Phoenix, AZ 85004
Federalism & Separation of Powers Practice Group Teleforum
Teleforum
Professional Responsibility & Legal Education Practice Group Ethics CLE Webinar
Teleforum
Federalism & Separation of Powers Practice Group Teleforum
In July 2021, the U.S. Court of Appeals for the Ninth Circuit ruled that California's...