In March of 2018, Judge Lisa Branch was appointed to serve as a Circuit Judge on the U.S. Court of Appeals for the Eleventh Circuit.  From 2012 to 2018, she served as a judge on the Court of Appeals of Georgia.  Prior to her judicial service, she spent her entire private practice career in commercial litigation at Smith, Gambrell & Russell, LLP in Atlanta, from summer clerk to associate to partner.
From 2004 to 2008, Judge Branch was a senior official in the Administration of President George W. Bush in Washington, D.C.  She served first as the Associate General Counsel for Rules and Legislation at the U.S. Department of Homeland Security and then as the Counselor to the Administrator of the Office of Information and Regulatory Affairs at the U. S. Office of Management and Budget.
After graduating from law school, Judge Branch served as a federal law clerk to The Honorable J. Owen Forrester of the U.S. District Court for the Northern District of Georgia from 1994 to 1996.
Judge Branch earned her J.D., with distinction, from Emory University School of Law.  She earned her B.A., cum laude, from Davidson College.
Judge Branch is a member of the Board of Advisors of the Atlanta Lawyers Chapter for the Federalist Society for Law and Public Policy Studies.
*****
A person listed as a contributor has spoken or otherwise participated in Federalist Society events, publications, or multimedia presentations. A person's appearance on this list does not imply any other endorsement or relationship between the person and the Federalist Society. In most cases, the biographical information on a person's "contributor" page is provided directly by the person, and the Federalist Society does not edit or otherwise endorse that information. The Federalist Society takes no position on particular legal or public policy issues. All expressions of opinion by a contributor are those of the contributor.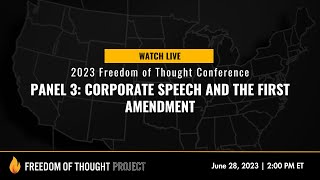 State Power Review Conference
How does the First Amendment apply to corporations? Do First Amendment interests and protections apply...