Ryan Bangert serves as senior counsel and vice president for legal strategy at Alliance Defending Freedom. He oversees the Center for Academic Freedom, the Conscience Team, and the regulatory litigation team, and assists ADF leadership with strategic initiatives.
Before joining ADF, Bangert served as Deputy for Legal Counsel and Deputy First Assistant Attorney General in the Office of the Texas Attorney General. In those roles, he oversaw the State's Special Litigation Unit, which handled critical litigation against the federal government, and oversaw multiple divisions within the office, including the General Counsel Division and the Opinion Committee. Bangert also served as Deputy for Civil Litigation for Missouri Attorney General Josh Hawley, overseeing the State's civil litigation portfolio and over 200 attorneys and staff.
Prior to his government service, Bangert was a litigation partner at Baker Botts L.L.P., where he was a volunteer attorney for ADF and served as amicus counsel in numerous cases, including Trinity Lutheran v. Comer and Salazar v. Buono.
Bangert earned his B.A. from Oral Roberts University, and his J.D. from Southern Methodist University in 2004, where he graduated first in his class. He participated in the Blackstone Legal Fellowship program in 2002. Following law school, he clerked for Judge Patrick Higginbotham on the Fifth Circuit Court of Appeals.
Bangert is an active member of the Texas Bar, and is admitted to practice before the U.S. Supreme Court and various federal trial courts and courts of appeal.
*****
A person listed as a contributor has spoken or otherwise participated in Federalist Society events, publications, or multimedia presentations. A person's appearance on this list does not imply any other endorsement or relationship between the person and the Federalist Society. In most cases, the biographical information on a person's "contributor" page is provided directly by the person, and the Federalist Society does not edit or otherwise endorse that information. The Federalist Society takes no position on particular legal or public policy issues. All expressions of opinion by a contributor are those of the contributor.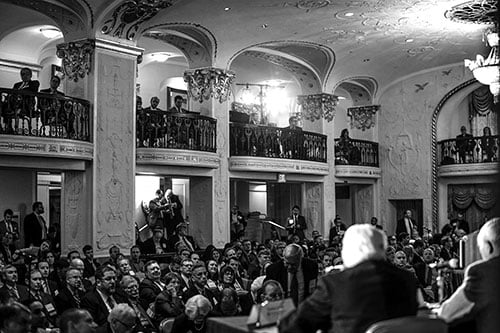 Eighth Annual Texas Chapters Conference
AT&T Conference Center - Zlotnik Ballroom
1900 University Ave
Austin, TX 78705