Oren Cass is the executive director of American Compass and author of The Once and Future Worker: A Vision for the Renewal of Work in America (2018). He is a contributing opinion writer for the Financial Times and CNN Opinion, and his work also appears regularly in publications including the New York Times and the Wall Street Journal.
From 2005 to 2015, Oren worked as a management consultant in Bain & Company's Boston and Delhi offices. During this period, he also earned his J.D. magna cum laude from Harvard Law School, where he was elected vice president and treasurer of the Harvard Law Review and oversaw the journal's budget and operations. While still in law school, Oren also became Domestic Policy Director for Governor Mitt Romney's 2012 presidential campaign, editing and producing the campaign's "jobs book" and developing its domestic policy strategy, proposals, and research. He joined the Manhattan Institute as a senior fellow in 2015 and became a prolific scholar, publishing more than 15 reports for MI and editing its popular "Issues 2016" and "Issues 2020" series, testifying before seven congressional committees and speaking on dozens of college campuses. He founded American Compass at the start of 2020.
*****
A person listed as a contributor has spoken or otherwise participated in Federalist Society events, publications, or multimedia presentations. A person's appearance on this list does not imply any other endorsement or relationship between the person and the Federalist Society. In most cases, the biographical information on a person's "contributor" page is provided directly by the person, and the Federalist Society does not edit or otherwise endorse that information. The Federalist Society takes no position on particular legal or public policy issues. All expressions of opinion by a contributor are those of the contributor.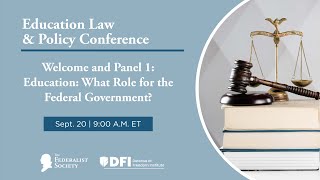 What role, if any, should the federal government play in education? What constitutional and policy...