Chester E. Finn, Jr., scholar, educator and public servant, has devoted his career to improving education in the United States. At Fordham, he is now Distinguished Senior Fellow and President Emeritus. He's also a Senior Fellow at Stanford's Hoover Institution.
Finn served as Fordham's President from 1997 to 2014, after many earlier roles in education, academe and government. From 1999 until 2002, he was John M. Olin Fellow at the Manhattan Institute and previously at Hudson Institute. In 1992-94, he served as founding partner and senior scholar with the Edison Project. He was Professor of Education and Public Policy at Vanderbilt University from 1981 until 2002. From 1985 to 1988, he served as Assistant Secretary for Research and Improvement and Counselor to the Secretary at the U.S. Department of Education. Earlier positions include Staff Assistant to the President of the United States; Special Assistant to the Governor of Massachusetts; Counsel to the U.S. Ambassador to India; Research Associate at the Brookings Institution; and Legislative Director for Senator Daniel P. Moynihan.
For more than four decades, Finn has been in the forefront of the national debate about school reform. His participation in seminars, conferences, and hearings has taken him to colleges, education and civic groups, and government organizations throughout the world.
Finn has served on numerous boards, including the National Assessment Governing Board (which he chaired) and the Maryland State Board of Education (where he was vice-chair) and currently serves on the National Council on Teacher Quality, the Core Knowledge Foundation, CVPath Institute and the Civics & Civic Engagement Advisory Commission for America 250.
A native of Ohio, he holds an undergraduate degree in U.S. history, a master's degree in social studies teaching, and a doctorate in education policy, all from Harvard University. He and his wife, Renu Virmani, a physician, have two grown children and three wonderful granddaughters. They live in Chevy Chase, Maryland.
*****
A person listed as a contributor has spoken or otherwise participated in Federalist Society events, publications, or multimedia presentations. A person's appearance on this list does not imply any other endorsement or relationship between the person and the Federalist Society. In most cases, the biographical information on a person's "contributor" page is provided directly by the person, and the Federalist Society does not edit or otherwise endorse that information. The Federalist Society takes no position on particular legal or public policy issues. All expressions of opinion by a contributor are those of the contributor.
Marriott Marquis
901 Massachusetts Ave NW
Washington, DC 20001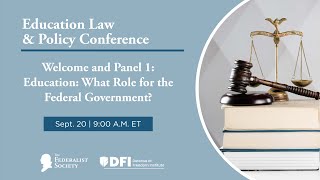 What role, if any, should the federal government play in education? What constitutional and policy...