Neal McCluskey is the director of Cato's Center for Educational Freedom. He is the author of the book Feds in the Classroom: How Big Government Corrupts, Cripples, and Compromises American Education and is coeditor of several volumes, including School Choice Myths: Setting the Record Straight on Education Freedom and Unprofitable Schooling: Examining Causes of, and Fixes for, America's Broken Ivory Tower. McCluskey also maintains Cato's Public Schooling Battle Map, an interactive database of values and identity‐​based conflicts in public schools, and oversees Cato's Private Schooling Status Tracker.
McCluskey is on the editorial board of the Journal of School Choice and the editorial advisory board of The Line, a journal promoting civil discourse in K–12 policy debates. His writings have appeared in such publications as the Wall Street Journal, the Washington Post, and Forbes, and he has appeared on numerous television and radio programs.
Prior to arriving at Cato, McCluskey was a policy analyst at the Center for Education Reform, taught high‐​school English, covered municipal government and education as a freelance reporter, and served in the U.S. Army.
McCluskey holds an undergraduate degree from Georgetown University, where he double majored in government and English, has a master's degree in political science from Rutgers University, Newark, and holds a PhD in public policy from George Mason University.
*****
A person listed as a contributor has spoken or otherwise participated in Federalist Society events, publications, or multimedia presentations. A person's appearance on this list does not imply any other endorsement or relationship between the person and the Federalist Society. In most cases, the biographical information on a person's "contributor" page is provided directly by the person, and the Federalist Society does not edit or otherwise endorse that information. The Federalist Society takes no position on particular legal or public policy issues. All expressions of opinion by a contributor are those of the contributor.
Marriott Marquis
901 Massachusetts Ave NW
Washington, DC 20001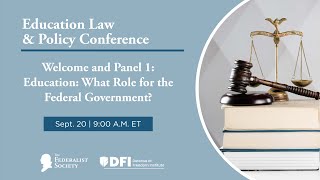 What role, if any, should the federal government play in education? What constitutional and policy...