Martin West is the academic dean and professor of education at the Harvard Graduate School of Education and a faculty research fellow at the National Bureau of Economic Research. He is also deputy director of the Harvard Kennedy School's Program on Education Policy and Governance and executive editor of Education Next, a journal of opinion and research on education policy. West studies the politics of K-12 education in the United States and how education policies affect student learning and non-cognitive development. His current projects include studies of public opinion on education policy, the effects of charter school attendance and on cognitive and non-cognitive skills, data use in schools, and the influence of relative pay on teacher quality. In 2013-14, West worked as senior education policy advisor to the ranking member of the U.S. Senate Committee on Health, Education, Labor, and Pensions. He previously taught at Brown University and was a research fellow at the Brookings Institution, where he is now a nonresident senior fellow.
*****
A person listed as a contributor has spoken or otherwise participated in Federalist Society events, publications, or multimedia presentations. A person's appearance on this list does not imply any other endorsement or relationship between the person and the Federalist Society. In most cases, the biographical information on a person's "contributor" page is provided directly by the person, and the Federalist Society does not edit or otherwise endorse that information. The Federalist Society takes no position on particular legal or public policy issues. All expressions of opinion by a contributor are those of the contributor.
Marriott Marquis
901 Massachusetts Ave NW
Washington, DC 20001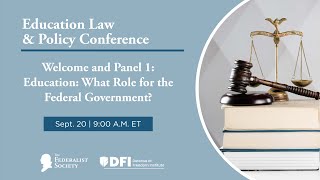 What role, if any, should the federal government play in education? What constitutional and policy...