Jennifer C. Braceras, a member of the 
Federalist Society Board of Visitors, 
is the director of Independent Women's Law Center and a former member of the U.S. Commission on Civil Rights.
She is an expert on Title IX of the Education Amendments of 1972 and has taught courses on civil rights and constitutional law at both Boston College Law School and Suffolk University Law School. 
Ms. Braceras is a 
graduate of the Harvard Law School, where she served as an editor of the Law Review. After law school, she clerked for
 two federal judges and practiced 
labor and employment law with the Boston law firm Ropes & Gray. 
A long time political columnist and editor, Ms. Braceras's writing has appeared in a variety of publications, including the Wall Street Journal, the Boston Globe, the Hill, and National Review Online.  She co-hosts 
At the Bar
, a bimonthly virtual happy hour discussion about issues at the intersection of law, politics, and culture. 
*****
A person listed as a contributor has spoken or otherwise participated in Federalist Society events, publications, or multimedia presentations. A person's appearance on this list does not imply any other endorsement or relationship between the person and the Federalist Society. In most cases, the biographical information on a person's "contributor" page is provided directly by the person, and the Federalist Society does not edit or otherwise endorse that information. The Federalist Society takes no position on particular legal or public policy issues. All expressions of opinion by a contributor are those of the contributor.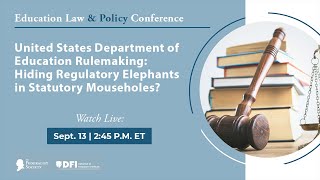 2023 Education Law & Policy Conference
The Supreme Court's recent decision in Biden v. Nebraska has not ended questions about regulatory...