Lanae Erickson is the Senior Vice President for Social Policy, Education, and Politics at Thirdway, where she aims to help policymakers and advocates better understand the complexities of how voters in the middle approach topics that are often perceived politically as black and white, including immigration, crime, abortion, and guns, as well as driving crucial policy conversations like how we can ensure our higher education system is delivering for students and taxpayers. Working closely with leaders in the LGBT movement, she led Third Way's Commitment Campaign, which mobilized moderate Americans to support marriage for gay couples by changing the conversation from legal rights and benefits to the importance of making a lifetime commitment in front of family and friends. 
Lanae served as a member of President Obama's third Advisory Council on Faith-Based and Neighborhood Partnerships. Before coming to Third Way, she was Legislative Counsel at Alliance for Justice, where she investigated the backgrounds of federal judicial nominees on civil and human rights and advocated for progress on issues from detention and interrogation policy to equal pay. Her analysis has been featured in a variety of news outlets, including The Washington Post, The New York Times, USA Today, Politico, The New Yorker, and PBS News Hour. She has also appeared on MSNBC, NPR, Fox News, CSPAN's Washington Journal, CNN, and her home state's Minnesota Public Radio. She earned her J.D. magna cum laude from the University of Minnesota, and her Bachelor's degree as a first generation college student and Pell grant recipient at Mount Holyoke College.
*****
A person listed as a contributor has spoken or otherwise participated in Federalist Society events, publications, or multimedia presentations. A person's appearance on this list does not imply any other endorsement or relationship between the person and the Federalist Society. In most cases, the biographical information on a person's "contributor" page is provided directly by the person, and the Federalist Society does not edit or otherwise endorse that information. The Federalist Society takes no position on particular legal or public policy issues. All expressions of opinion by a contributor are those of the contributor.
2023 Education Law & Policy Conference
Washington Hilton
1919 Connecticut Avenue, NW
Washington, DC 20009
In-Person Event

Live Stream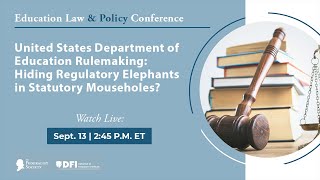 2023 Education Law & Policy Conference
The Supreme Court's recent decision in Biden v. Nebraska has not ended questions about regulatory...