Farnaz is a skilled litigator with extensive experience in representing employers and institutions of higher education, including academic medical centers, in breach of contract, constitutional, discrimination, and tort litigation. She has conducted investigations, advised clients on employment and education laws, and represented them before federal agencies, including the U.S. Department of Labor and U.S. Department of Education.
Farnaz successfully has defended employers, state agencies, government officials, and institutions of higher education in over 30 civil actions as first chair before federal and state courts as well as trial and appellate courts.  Farnaz also has advised clients on investigations under civil rights laws such as Title VI of the Civil Rights Act of 1964 (discrimination based on race, color, or national origin), Title VII of the Civil Rights Act of 1964 (discrimination based on race, color, religion, sex, and national origin), and Title IX of the Education Amendments of 1972 (discrimination based on sex).  Her deep knowledge of education laws and regulations includes the Higher Education Act of 1965, as amended; accreditation; borrower defense to repayment; gainful employment; financial responsibility standards; FERPA and other privacy laws; the Clery Act; and the Violence Against Women Act (VAWA).
Farnaz is experienced with student and employee disciplinary issues, including under Title IX, and has represented institutions in such matters in several of her previous roles.  Representing institutions in Title IX cases requires a nuanced approach, as the institution must balance legal compliance with compassion and care, supporting victims while providing a fair process for both parties, including the accused.  Farnaz strikes this balance and is a trusted resource for her clients.
Prior to joining McGuireWoods, Farnaz served as the Deputy General Counsel for Postsecondary Education at the U.S. Department of Education and also as in-house counsel at the University of Virginia.  She advised the U.S. Department of Education on litigation strategy and worked closely with the U.S. Department of Justice in cases arising under federal antidiscrimination laws and the Administrative Procedure Act.  Government officials also relied on her close counsel in preparation for congressional investigations and hearings.  At the University of Virginia, she advised University officials on federal education and employment laws and represented the University and its academic medical center in litigation.  She also drafted the University's antidiscrimination and conduct policies, including free speech policies.
She began her legal career as a law clerk to the Honorable Eric G. Bruggink, Senior Judge, U.S. Court of Federal Claims, and later as a law clerk to the Honorable Leroy Rountree Hassell, Sr., the former Chief Justice, Supreme Court of Virginia.
*****
A person listed as a contributor has spoken or otherwise participated in Federalist Society events, publications, or multimedia presentations. A person's appearance on this list does not imply any other endorsement or relationship between the person and the Federalist Society. In most cases, the biographical information on a person's "contributor" page is provided directly by the person, and the Federalist Society does not edit or otherwise endorse that information. The Federalist Society takes no position on particular legal or public policy issues. All expressions of opinion by a contributor are those of the contributor.
2023 Education Law & Policy Conference
Washington Hilton
1919 Connecticut Avenue, NW
Washington, DC 20009
In-Person Event

Live Stream
Administrative Law & Regulation Practice Group
Online Event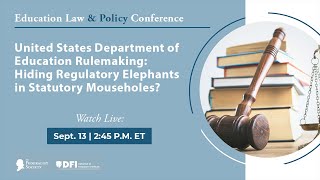 2023 Education Law & Policy Conference
The Supreme Court's recent decision in Biden v. Nebraska has not ended questions about regulatory...