Daniel B. Rodriguez, the Harold Washington Professor at the Law School, served as dean of the Law School from January 2012 through August 2018.
His principal academic work is in the areas of administrative law, local government law, statutory interpretation, federal and state constitutional law, and the law-business-technology interface.
Formerly, Professor Rodriguez served as Minerva House Drysdale Regents Chair in Law at the University of Texas-Austin; as a Research Fellow at Rice University's Baker Institute for Public Policy; as Dean and Warren Distinguished Professor of Law at the University of San Diego School of Law; and, as a Professor of Law at University of California, Berkeley School of Law. He has also served as a visiting professor at several top law schools, including Stanford, Harvard, Columbia, University of Southern California, and Virginia.
Professor Rodriguez was the 2014 President of the Association of American Law Schools (AALS) and is currently serving as chair of the council of the American Bar Association Center for Innovation, a council member of the American Law Institute, and as an advisor to ROSS Intelligence, Inc.
Rodriguez received his law degree, with honors, from Harvard Law School and his undergraduate degree from California State University of Long Beach.
*****
A person listed as a contributor has spoken or otherwise participated in Federalist Society events, publications, or multimedia presentations. A person's appearance on this list does not imply any other endorsement or relationship between the person and the Federalist Society. In most cases, the biographical information on a person's "contributor" page is provided directly by the person, and the Federalist Society does not edit or otherwise endorse that information. The Federalist Society takes no position on particular legal or public policy issues. All expressions of opinion by a contributor are those of the contributor.
Northwestern Student Chapter
Zoom Webinar -- Northwestern
Zoom Webinar
Chicago, IL 60611
23rd Annual Federalist Society Faculty Conference
Webinar & Live Stream
COVID-19 & the Law Conference
Webinar & Live Stream
17th Annual Faculty Conference
Omni Shoreham Hotel
2500 Calvert Street NW
Washington, DC 20008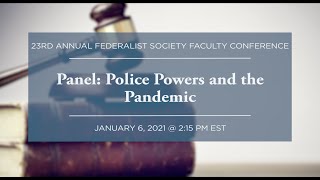 23rd Annual Federalist Society Faculty Conference
With the many COVID-19 emergency measures undertaken by state and local officials as a backdrop,...