Attorney General-elect Jason Miyares selected Andrew Ferguson to serve as the next Solicitor General for the Commonwealth of Virginia. He most recently served as Chief Counsel to U.S. Senate Republican Leader Mitch McConnell (R-KY).
Andrew earned his undergraduate and law degrees from the University of Virginia, where he was an articles editor of the Virginia Law Review. After law school, he clerked for Judge Karen L. Henderson on the D.C. Circuit and Justice Clarence Thomas on the Supreme Court of the United States.  He also practiced law at several D.C. law firms, including the boutique appellate firm Bancroft PLLC.  Before accepting the Chief Counsel position, Andrew served as Senior Special Counsel to then-Chairman Chuck Grassley during the confirmation of Justice Kavanaugh, and most recently served as Chief Counsel for Nominations and the Constitution to Chairman Lindsey Graham.
*****
A person listed as a contributor has spoken or otherwise participated in Federalist Society events, publications, or multimedia presentations. A person's appearance on this list does not imply any other endorsement or relationship between the person and the Federalist Society. In most cases, the biographical information on a person's "contributor" page is provided directly by the person, and the Federalist Society does not edit or otherwise endorse that information. The Federalist Society takes no position on particular legal or public policy issues. All expressions of opinion by a contributor are those of the contributor.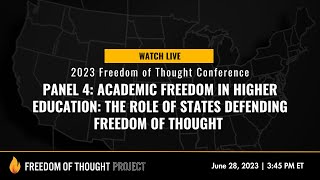 State Power Review Conference
What policies and practices can states adopt to encourage freedom of thought within higher education?...