John Hasnas is a professor of business at Georgetown's McDonough School of Business and a professor of law (by courtesy) at Georgetown University Law Center in Washington, DC, where he teaches courses in ethics and law.
Professor Hasnas is also the executive director of the Georgetown Institute for the Study of Markets and Ethics, whose tripartite mission is to produce high-quality research on matters related to the ethics of market activity, improve ethics pedagogy, and educate the broader, non-academic community about ethical issues related to the functioning of markets.
Professor Hasnas has held previous appointments as associate professor of law at George Mason University School of Law, visiting associate professor of law at Duke University School of Law and the Washington College of Law at American University, and Law and Humanities Fellow at Temple University School of Law. Professor Hasnas has also been a visiting scholar at the Kennedy Institute of Ethics in Washington, DC and the Social Philosophy and Policy Center in Bowling Green, Ohio.
He received his B.A. in Philosophy from Lafayette College, his J.D. and Ph.D. in Legal Philosophy from Duke University, and his LL.M. in Legal Education from Temple Law School. His scholarship concerns ethics and white collar crime, jurisprudence, and legal history.
*****
A person listed as a contributor has spoken or otherwise participated in Federalist Society events, publications, or multimedia presentations. A person's appearance on this list does not imply any other endorsement or relationship between the person and the Federalist Society. In most cases, the biographical information on a person's "contributor" page is provided directly by the person, and the Federalist Society does not edit or otherwise endorse that information. The Federalist Society takes no position on particular legal or public policy issues. All expressions of opinion by a contributor are those of the contributor.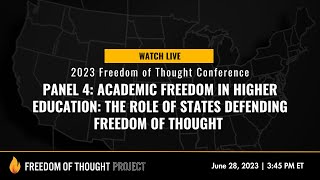 State Power Review Conference
What policies and practices can states adopt to encourage freedom of thought within higher education?...