Michael T. Morley is Assistant Professor of Law at Florida State University College of Law. He teaches and writes in the areas of election law, constitutional law, remedies and the federal courts. 
Before joining FSU Law, Professor Morley was a Climenko Fellow and Lecturer on Law at Harvard Law School. Prior to entering academia, Morley served as Special Assistant to the General Counsel of the Army. He also worked as an associate at Williams & Connolly LLP and in the Supreme Court & Appellate group of Winston & Strawn LLP, both in Washington, D.C. He clerked for Judge Gerald B. Tjoflat of the U.S. Court of Appeals for the Eleventh Circuit.
Professor Morley earned his J.D. from Yale Law School in 2003, where he was a senior editor on the Yale Law Journal, served on the moot court board, and received the Thurman Arnold Prize for Best Oralist in the Morris Tyler Moot Court of Appeals. He graduated Princeton University's Woodrow Wilson School of Public & International Affairs magna cum laude in 2000. His work has been quoted by the U.S. Supreme Court, and he was counsel of record in the Supreme Court for the successful Petitioner in the landmark First Amendment case McCutcheon v. FEC.
Professor Morley's articles include:
Election Emergencies: Voting in the Wake of Natural Disasters and Terrorist Attacks, 67 Emory L.J. 545 (2018).
The Federal Equity Power, 59 B.C. L. Rev. 217 (2018).
Nationwide Injunctions, Rule 23(b)(2), and the Remedial Powers of the Lower Courts, 97 B.U. L. Rev. 615 (2016).
De Facto Class Actions? Plaintiff- and Defendant-Oriented Injunctions in Election Law, Voting Rights and Other Constitutional Cases, 39 Harv. J.L. & Pub. Pol'y 487 (2016).
Remedial Equilibration and the Right to Vote Under Section 2 of the Fourteenth Amendment, 2015 U. Chi. L. Forum 279.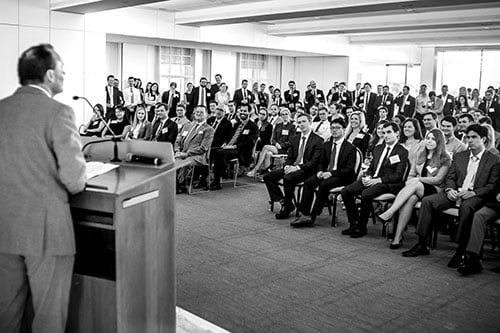 2020 Wisconsin Lawyers Chapters Conference
The Ingleside Hotel
2810 Golf Rd
Pewaukee, WI 53072
22nd Annual Federalist Society Faculty Conference
On January 3-4, 2020, the Federalist Society hosted its 22nd annual Faculty Conference at the...