Dean Hutson was born in North Muskegon, Michigan.  He was commissioned in the U.S. Navy upon graduation from Michigan State University in 1969.  He graduated from the University of Minnesota Law School in 1972.  Upon admission to the State Bar of Michigan, he attended the Naval Justice School in Newport, R.I.  In 1973, he was assigned to the Law Center in Corpus Christi, TX, where he served as Chief Defense Counsel and Chief Trial Counsel.  In 1975, he was transferred to Naval Air Station, Point Mugu, CA.  He served as the Station legal officer for two years before returning to Newport to serve as an instructor at the Naval Justice School, where he taught Civil Law, Procedure, and Evidence.
In 1980, Dean Hutson attended Georgetown University Law Center where he earned a Master of Laws degree in labor law.  He was then assigned as a legislative counsel in the first of three tours in the Office of Legislative Affairs for the Navy.  In 1984, he was assigned to the Portsmouth Naval Shipyard in Kittery, ME, where he served both as Staff Judge Advocate and Administrative Officer.
Dean  Hutson assumed duty as Executive Officer of the Naval Legal Service Office, Newport, RI, in 1987.  In 1989, he returned to Washington, DC, to serve as Staff Judge Advocate and Executive Assistant to the Commander, Naval Investigative Command.
In August, 1989, Dean Hutson moved to the Office of Legislative Affairs as Director of Legislation.   Between October, 1992, and November, 1993, he was assigned as the Executive Assistant to the Judge Advocate General of the Navy.  In November, 1993, he resumed duty in the Office of Legislative Affairs.
In August, 1994, he assumed duty as Commanding Officer, Naval Legal Service Office, Europe and Southwest Asia, located in Naples, Italy.  In July, 1996, Dean Hutson returned to the Naval Justice School as Commanding Officer.  He was promoted to the rank of Rear Admiral, and assumed duties as the Judge Advocate General of the Navy in May, 1997.  He also served as the DOD/JCS Representative for Ocean Policy.
Dean Hutson was awarded the Distinguished Service Medal, the Legion of Merit (with three gold stars), Meritorious Service Medal (with two gold stars), Navy Commendation Medal, and Navy Achievement Medal.
BA, Michigan State University
JD, Minnesota Law School
LLM, Georgetown University Law Center
*****
A person listed as a contributor has spoken or otherwise participated in Federalist Society events, publications, or multimedia presentations. A person's appearance on this list does not imply any other endorsement or relationship between the person and the Federalist Society. In most cases, the biographical information on a person's "contributor" page is provided directly by the person, and the Federalist Society does not edit or otherwise endorse that information. The Federalist Society takes no position on particular legal or public policy issues. All expressions of opinion by a contributor are those of the contributor.
2006 National Lawyers Convention
The Mayflower Hotel - East Room
1127 Connecticut Avenue NW
Washington, DC 20036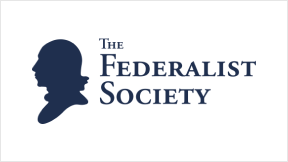 Online Debate
On June 11, 2007, the Fourth Circuit Court of Appeals decided the case of al-Marri v. Wright....