Carissa Byrne Hessick joined the Carolina Law faculty in 2016. She serves as the Anne Shea Ransdell and William Garland "Buck" Ransdell, Jr. Distinguished Professor of Law and as the director of the Prosecutors and Politics Project. Her teaching and research interests include criminal law, the structure of the criminal justice system, criminal sentencing, and child pornography crimes. Hessick is the author of multiple law review articles, essays, and op eds on plea bargaining, the powers and selection of prosecutors, Sixth Amendment sentencing rights, and criminal statutes. Her work has appeared in the California Law Review, the Cornell Law Review, the L.A. Times, the UCLA Law Review, and the Virginia Law Review, among others. She founded the Prosecutors and Politics Project in 2018. And she currently serves as the Reporter for the ABA Criminal Justice Section's Sentencing Standards Task Force.
Hessick attended Yale Law School, where she was an editor of the Yale Law Journal and winner of the Potter Stewart Prize for the Morris Tyler Moot Court of Appeals. After graduating from law school, she clerked for Judge Barbara S. Jones on the Southern District of New York and for Judge A. Raymond Randolph on the D.C. Circuit. She also worked as a litigation associate at Wachtell, Lipton, Rosen & Katz in New York City. Before joining the faculty at Carolina Law, Hessick taught on the faculties at Arizona State University's Sandra Day O'Connor College of Law and the University of Utah's S.J. Quinney College of Law. She also spent two years as a Climenko Fellow at Harvard Law School.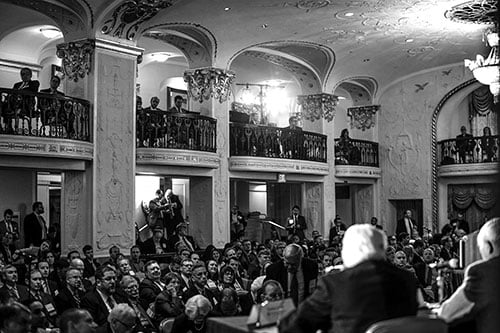 Indiana-Bloomington Student Chapter
Indiana University Maurer School of Law
211 S Indiana Ave
Bloomington, IN 47362
Miami Lawyers Chapter - Online Event
Online Event
North Carolina Student Chapter
UNC School of Law
160 Ridge Road
Chapel Hill, NC 27517
2018 National Lawyers Convention
The Mayflower Hotel - State Room
1127 Connecticut Avenue, NW
Washington, DC 20036
20th Annual Federalist Society Faculty Conference
Marriott Marquis San Diego Marina
333 W Harbor Drive
San Diego, CA 92101
Miami Lawyers Chapter - Online Event
On June 4, 2020, the Miami Lawyers Chapter of the Federalist Society hosted an online...