Brian Hauss is a senior staff attorney with the ACLU's Speech, Privacy & Technology Project, where he focuses on free expression issues. Since joining the ACLU in 2012, he has litigated cases defending the First Amendment rights of writers, journalists, media organizations, activists, advocacy groups, labor unions and private citizens. He has authored or co-authored numerous Supreme Court amicus curiae briefs on behalf of the ACLU and other groups. He also regularly discusses First Amendment issues in the media and at law schools throughout the country. Brian was a 2021-22 Wasserstein Public Interest Fellow at Harvard Law School. He is a graduate of Yale University and Harvard Law School and served as a law clerk to the Hon. Marsha S. Berzon of the U.S. Court of Appeals for the Ninth Circuit.
*****
A person listed as a contributor has spoken or otherwise participated in Federalist Society events, publications, or multimedia presentations. A person's appearance on this list does not imply any other endorsement or relationship between the person and the Federalist Society. In most cases, the biographical information on a person's "contributor" page is provided directly by the person, and the Federalist Society does not edit or otherwise endorse that information. The Federalist Society takes no position on particular legal or public policy issues. All expressions of opinion by a contributor are those of the contributor.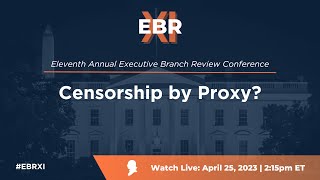 EBRXI
The First Amendment forbids public officials from censoring disfavored speech and speakers. But what happens...