Adam Mossoff is Professor of Law at Antonin Scalia Law School, George Mason University. He teaches a wide range of courses at the law school, including property, patent law, trade secrets, trademark law, remedies, and internet law. He has published extensively on the theory and history of how patents and other intellectual property rights are private property rights that should be legally secured to their owners and licensed or otherwise transferred as commercial assets in the marketplace. His research has been cited by the Supreme Court, by the Court of Appeals for the Federal Circuit, and by federal agencies.  Professor Mossoff has been invited to testify several times before the Senate and the House on proposed patent legislation, and he has spoken at numerous congressional staff briefings and academic conferences, as well as at the US Patent & Trademark Office, the Federal Trade Commission, the Department of Justice, the National Academy of Sciences, and the Smithsonian Museum of American History. His writings on patent policy have appeared in the Wall Street Journal, New York Times, Forbes, The Hill, Politico, and in other media outlets. He is a member of the Public Policy Committee of the Licensing Executives Society, the Intellectual Property Rights Policy Committee of ANSI, and the Academic Advisory Committee of the Copyright Alliance. He has served as past Chair and Vice-Chair of the Intellectual Property Committee of the IEEE-USA, and remains a member in good standing.
Professor Mossoff graduated with honors from the University of Chicago Law School, where he was a research assistant to Richard A. Epstein and received a Bradley Governance Fellowship. Following law school, he was a John M. Olin Fellow in Law and Visiting Lecturer at Northwestern University School of Law, and he clerked for the Honorable Jacques L. Wiener, Jr. of the U.S. Court of Appeals for the Fifth Circuit. Before coming to Scalia Law, he taught at Michigan State University College of Law, the University of San Diego School of Law, and Washington & Lee University School of Law. He holds an MA in philosophy, specializing in legal and political philosophy, from Columbia University and a BA with High Distinction and High Honors in philosophy from the University of Michigan.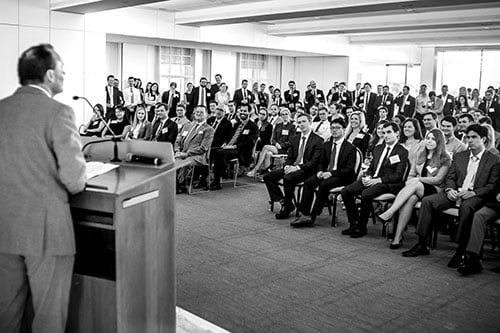 22nd Annual Federalist Society Faculty Conference
The Omni Shoreham Hotel
2500 Calvert St NW
Washington, DC 20006
George Mason Student Chapter
Antonin Scalia Law School
3301 Fairfax Dr
Arlington, VA 22201
Intellectual Property Practice Group and Regulatory Transparency Project Teleforum
Teleforum
Sixth Annual Executive Branch Review Conference
The Mayflower Hotel - Senate Room
1127 Connecticut Avenue, N.W.
Washington, DC 20036
Intellectual Property Practice Group
Teleforum
On May 21, 2019, the U.S. District Court for the Northern District of California issued...