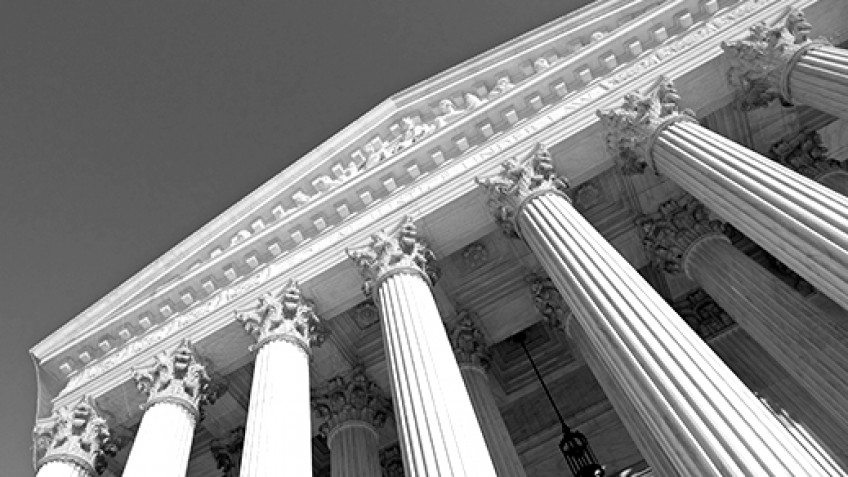 News
Few people would likely accuse President Barack Obama of walking in Ronald Reagan's footsteps, but he may just have taken his first step.
On Wednesday, March 16, 2016, the President announced his nominee to replace the late United States Supreme Court Justice Antonin Scalia: Merrick Garland. A highly-respected former prosecutor who oversaw the Oklahoma City bombing prosecutions, Judge Garland has, since 2013, been Chief Judge of the U.S. Court of Appeals for the D.C. Circuit.
His academic credentials are unimpeachable, dating back to high school: valedictorian at both Niles West High School outside Chicago and at Harvard College, from which he graduated summa cum laude and Phi Beta Kappa. At Harvard law School, where he served as articles editor of the Harvard Law Review, he graduated magna cum laude.
He's practiced law in the private sector and served with the government, starting as special assistant to Attorney General Benjamin Civiletti back in the Jimmy Carter administration. He effectively began his judicial career in 1977, serving first as a law clerk for Judge Henry Friendly of the U.S. Court of Appeals for the Second Circuit for a year, then as clerk to Justice William Brennan, Jr. of the U.S. Supreme Court for another, both highly respected judges. He's been a judge himself for nearly twenty years, having been confirmed to the D.C. Circuit following his second nomination to the Court of appeals in 1997 by President Bill Clinton after winning re-election.
To top it all off, perhaps, the New York Times has written that he's "often described as brilliant."
So was Robert Bork.
The late Judge Bork may have been the most brilliant legal mind of his generation. Educated at the Hotchkiss School and then the University of Chicago, he too was elected to Phi Beta Kappa and served on the Law Review, in his case at the University of Chicago. After serving in the United States Marine Corps, Bork became a professor at Yale Law School for seventeen years and served as U. S. Solicitor General for four.
Among the assistants Bork hired were Danny Boggs and Frank Easterbrook, currently Judges on the U. S. Courts of Appeal for the Sixth and Seventh Circuits, respectively, and Robert Reich, later to become Secretary of Labor in the Bill Clinton administration. Chief Justice Warren Burger reportedly called Bork the most effective counsel to appear before the court during Burger's seventeen-year tenure.
A brilliant antitrust scholar, Judge Bork helped reshape the law of antitrust beginning in the 1970s. In 1982, President Ronald Reagan nominated Bork to the U.S. Court of Appeals for the D.C. Circuit – the same court on which Merrick Garland currently sits – and the Senate confirmed him by a unanimous voice vote.
Yet a mere five years later when Reagan nominated Bork to replace the retiring Justice Lewis F. Powell on the U. S. Supreme Court, the Senate shot him down following a campaign of vitriol that makes Donald Trump look like the Marquis of Queensbury. Ted Kennedy's speech from the Senate floor in particular set a new low for hypocrisy and dishonesty.
In the end, the Senate voted down Judge Bork, 58-42, and "to bork" entered the political lexicon as a verb.
Judge Merrick will not likely receive the Bork treatment, nor should he. Conservatives and self-styled progressives alike should rightly deplore the tactics used against Judge Bork, and resolve not to use them again.
Yet the judge's supporters should be honest and smart enough to recognize that Merrick Garland will not be confirmed by this Senate. His nomination is purely political, designed to make a President who has over-reached his Constitutional authority for the past seven-plus years look like he's being "reasonable" and to present Republican Senators with a dilemma: to renege on their pledge not even to hold hearings until after the next election, or to take the risk that the next President – who could be a Democrat – will nominate a less palatable choice.
Judge Garland has next to zero chance of being confirmed this year. Perhaps he hopes that for his courage and daring in accepting a nomination now, a grateful Democratic president will nominate him a second time in January 2017, as President Clinton did twenty years before. Only time will tell.
In the meantime, Merrick Garland looks very much like a sacrificial lamb.