Rodolfo "Rudy" Armando Ruiz II is a District Judge of the United States District Court for the Southern District of Florida. Prior to his judicial commission on May 3, 2019, Ruiz was a Circuit Court Judge for the Eleventh Judicial Circuit of Florida from 2014 through 2019, and a Miami-Dade County Court Judge from 2012 through 2014. Ruiz also served as an Assistant County Attorney with the Miami-Dade County Attorney's Office and an associate with White & Case LLP.
Ruiz received a Bachelor of Science in Economics from Duke University and earned his Juris Doctor from Georgetown University. After graduating from law school, he was a law clerk to the Honorable Federico A. Moreno of the United States District Court for the Southern District of Florida.
*****
A person listed as a contributor has spoken or otherwise participated in Federalist Society events, publications, or multimedia presentations. A person's appearance on this list does not imply any other endorsement or relationship between the person and the Federalist Society. In most cases, the biographical information on a person's "contributor" page is provided directly by the person, and the Federalist Society does not edit or otherwise endorse that information. The Federalist Society takes no position on particular legal or public policy issues. All expressions of opinion by a contributor are those of the contributor.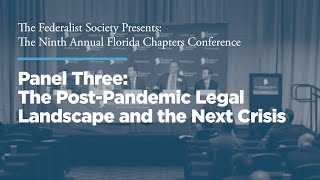 Ninth Annual Florida Chapters Conference
This panel will focus on the lasting impact of the Covid-19 pandemic on law and...