Ramon Marks is a retired Arnold & Porter partner who specialized in international law. He is Vice Chair of Business Executives for National Security (BENS) and a frequent contributor to The National Interest where he writes on national security issues.
*****
A person listed as a contributor has spoken or otherwise participated in Federalist Society events, publications, or multimedia presentations. A person's appearance on this list does not imply any other endorsement or relationship between the person and the Federalist Society. In most cases, the biographical information on a person's "contributor" page is provided directly by the person, and the Federalist Society does not edit or otherwise endorse that information. The Federalist Society takes no position on particular legal or public policy issues. All expressions of opinion by a contributor are those of the contributor.
America's Square
300 New Jersey Ave NW
Washington, DC 20001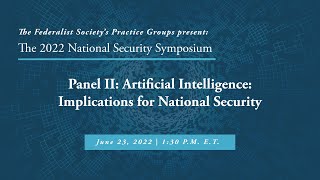 This panel will address the national security ramifications of the scaling artificial intelligence (AI) developments. ...