Claire Finkelstein's current research addresses national security law and policy, with a focus on ethical and rule of law issues that arise in that arena. In 2012, Professor Finkelstein founded Penn Law's Center for Ethics and the Rule of Law (CERL), a non-partisan interdisciplinary institute that seeks to promote the rule of law in modern day conflict, warfare, and national security. In 2019, she was named Senior Fellow at the Foreign Policy Research Institute (FPRI). An expert in the law of armed conflict, military ethics, and national security law, she is a co-editor (with Jens David Ohlin) of The Oxford Series in Ethics, National Security, and the Rule of Law, and a volume editor of its four titles thus far: Targeted Killings: Law & Morality in an Asymmetrical World (Oxford University Press, 2012); Cyber War: Law and Ethics for Virtual Conflicts (Oxford University Press, 2015); Weighing Lives in War (Oxford University Press, 2017); and Sovereignty and the New Executive Authority (Oxford University Press, 2018). Professor Finkelstein has briefed Pentagon officials, U.S. Senate staff, and JAG Corps members on various issues in national security law and practice. She is a frequent radio, broadcast, and print commentator and has published op-eds in The New York Times and The Hill. Her prior scholarly work focuses on criminal law theory, moral and political philosophy, jurisprudence, and rational choice theory. She is also the editor of Hobbes on Law (Ashgate Publishing, 2005) and is currently completing a book called Contractarian Legal Theory.
*****
A person listed as a contributor has spoken or otherwise participated in Federalist Society events, publications, or multimedia presentations. A person's appearance on this list does not imply any other endorsement or relationship between the person and the Federalist Society. In most cases, the biographical information on a person's "contributor" page is provided directly by the person, and the Federalist Society does not edit or otherwise endorse that information. The Federalist Society takes no position on particular legal or public policy issues. All expressions of opinion by a contributor are those of the contributor.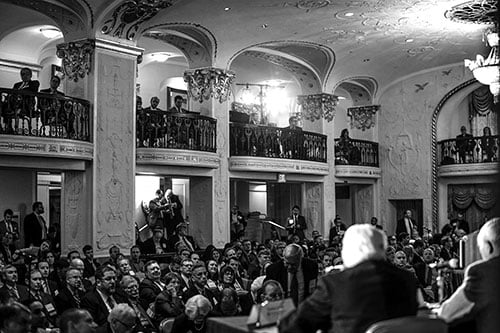 Jones Day
300 New Jersey Ave NW
Washington, DC 20001
2021 National Student Symposium
Presidents of both parties now regularly claim the authority to take offensive military interventions without...