Mark Montgomery serves as senior director of the Center on Cyber and Technology Innovation, where he leads FDD's efforts to advance U.S. prosperity and security through technology innovation while countering cyber threats that seek to diminish them. Mark also directs CSC 2.0, an initiative that works to implement the recommendations of the congressionally mandated Cyberspace Solarium Commission, where he served as executive director. Previously, Mark served as policy director for the Senate Armed Services Committee under the leadership of Senator John S. McCain, coordinating policy efforts on national security strategy, capabilities and requirements, and cyber policy.
Mark served for 32 years in the U.S. Navy as a nuclear-trained surface warfare officer, retiring as a rear admiral in 2017. His flag officer assignments included director of operations (J3) at U. S. Pacific Command; commander of Carrier Strike Group 5, embarked on the USS George Washington, stationed in Japan; and deputy director for plans, policy and strategy (J5) at U. S. European Command. He was assigned to the National Security Council from 1998 to 2000, serving as director for transnational threats. Mark has graduate degrees from the University of Pennsylvania and the University of Oxford and completed the U.S. Navy's nuclear power training program.
*****
A person listed as a contributor has spoken or otherwise participated in Federalist Society events, publications, or multimedia presentations. A person's appearance on this list does not imply any other endorsement or relationship between the person and the Federalist Society. In most cases, the biographical information on a person's "contributor" page is provided directly by the person, and the Federalist Society does not edit or otherwise endorse that information. The Federalist Society takes no position on particular legal or public policy issues. All expressions of opinion by a contributor are those of the contributor.
America's Square
300 New Jersey Ave NW
Washington, DC 20001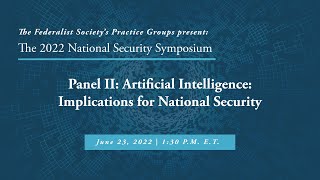 This panel will address the national security ramifications of the scaling artificial intelligence (AI) developments. ...