Nicole Neily is the president and founder of Parents Defending Education, a nonpartisan, nonprofit national organization giving parents the resources and support they need to advocate for their children's education. In recent years, K-12 schools, both public and private, have been targeted by activists seeking to politicize education, impose toxic new curriculums, and treat our kids not as individuals to nurture and respect but as members of identity groups to enlist in divisive new causes. Unfortunately, most parents remain silent about their concerns because they fear that if they speak out, their child might face repercussions. Parents Defending Education works to educate and empower families to push back, either directly or under the umbrella of PDE.
Prior to launching PDE, Nicole created Speech First, a nationwide membership organization that defends college students' free speech rights through litigation and other means. Since its debut in February 2018, Speech First has filed federal lawsuits against the University of Michigan, the University of Texas, the University of Illinois, Iowa State University, University of Central Florida, and Virginia Tech University for violating its student members' speech rights – securing major victories at the appellate level and forcing policy changes not only at the schools in question, but at dozens of other schools across the country.
Nicole has also worked as president of the Franklin Center for Government & Public Integrity, a state-level investigative journalism organization; as executive director and senior fellow at the Independent Women's Forum; and at the Cato Institute, where she created their department of external relations. In addition, she has worked in the private sector as a senior vice president at a crisis communications firm and as director of research analysis for a public opinion and message design firm.
Nicole grew up passionate about civil liberties thanks to her family history; her grandparents, both Japanese-American citizens born in California, met in the Manzanar War Relocation Center during WWII. In college, Nicole joined the Student ACLU and passed out "know your rights" cards to over 8,000 sorority members while serving as vice president of risk management for the University of Illinois' Panhellenic Council, at the time the largest Greek system in the country. She holds a bachelor's degree in political science from the University of Illinois, and a master's of public policy from Pepperdine University's School of Public Policy.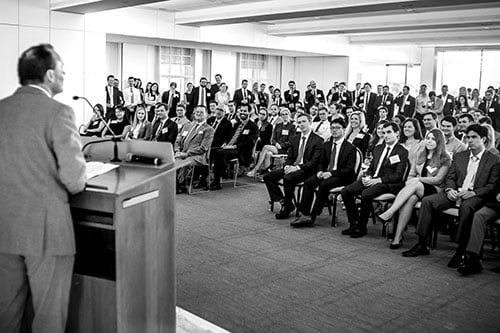 2021 National Lawyers Convention
The Mayflower Hotel
1127 Connecticut Avenue, NW
Washington, DC 20036
Texas Student Chapter
University of Texas School of Law
727 E Dean Keeton St
Austin, TX 78705