Nathan Arnold previously served as Chief of Staff to the Acting Under Secretary and Senior Policy Advisor in the Office of Postsecondary Education at the U.S. Department of Education. In those capacities he directed high-stakes policy initiatives, providing insight and guidance to the Under Secretary and Secretary of Education in the Obama and Trump Administrations. He helped lead the most recent administration transition in the Department, ensuring the continued delivery of Department services to the higher education community and briefing incoming officials on time-sensitive decisions. He oversaw cross-agency teams in developing legislative proposals and new regulations governing over $1 trillion in federal student aid, leading to the creation and implementation of several federal regulations including new income-driven repayment plans, credit standards for parent PLUS and grad PLUS loans, campus debit and prepaid card rules, and provisions governing borrower defense to repayment. He led the Department's interagency task force on proprietary education and oversaw the Department's efforts supporting borrowers attending closed schools following the closure of Corinthian Colleges, Inc. and ITT Technical Institute, among others.
He began his career at the Department in the Office of Legislation and Congressional Affairs, preparing senior Department officials for Congressional hearings and building relationships with legislative staff to advance Department policy. He holds a Bachelor's Degree from the University of Wisconsin-Madison and a Juris Doctor from the University of Virginia.
*****
A person listed as a contributor has spoken or otherwise participated in Federalist Society events, publications, or multimedia presentations. A person's appearance on this list does not imply any other endorsement or relationship between the person and the Federalist Society. In most cases, the biographical information on a person's "contributor" page is provided directly by the person, and the Federalist Society does not edit or otherwise endorse that information. The Federalist Society takes no position on particular legal or public policy issues. All expressions of opinion by a contributor are those of the contributor.
Education Law & Policy Conference
Marriott Marquis
901 Massachusetts Ave NW
Washington, DC 2001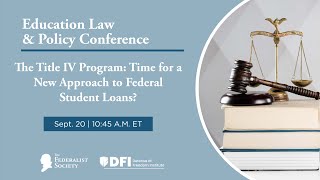 Education Law & Policy Conference
Featuring: Elizabeth Akers, Senior Fellow, American Enterprise Institute Matt Chingos, Vice President, Urban Institute Preston Cooper,...