Elizabeth "Beth" Akers is a senior fellow at the American Enterprise Institute (AEI), where she focuses on the economics of higher education. Before joining AEI, she worked as a senior fellow at the Manhattan Institute, a visiting research scholar at the Federal Reserve Board, a fellow at Brookings Institution, and a staff economist at the Council of Economic Advisers under President George W. Bush.
Dr. Akers is the coauthor of Game of Loans: The Rhetoric and Reality of Student Debt (Princeton University Press, 2016) and the coauthor of the chapter "Understanding Changes in the Distribution of Student Loan Debt over Time" in Student Loans and the Dynamics of Debt (Upjohn Institute Press, 2015).
She has testified before Congress, and her writing and research have been published or featured in Bloomberg View, Boston Globe, E21 Manhattan Institute, Education Next, New York Daily News, New York Post, Newsweek, Quartz, Time, The Hill, The New York Times, The Wall Street Journal, The Washington Post, and USA Today, among others. Her broadcast appearances include ABC News, Bloomberg Television, C-SPAN, and CNBC.
Dr. Akers has a PhD in economics from Columbia University and a BS in mathematics and economics from the State University of New York at Albany.
*****
A person listed as a contributor has spoken or otherwise participated in Federalist Society events, publications, or multimedia presentations. A person's appearance on this list does not imply any other endorsement or relationship between the person and the Federalist Society. In most cases, the biographical information on a person's "contributor" page is provided directly by the person, and the Federalist Society does not edit or otherwise endorse that information. The Federalist Society takes no position on particular legal or public policy issues. All expressions of opinion by a contributor are those of the contributor.
Education Law & Policy Conference
Marriott Marquis
901 Massachusetts Ave NW
Washington, DC 2001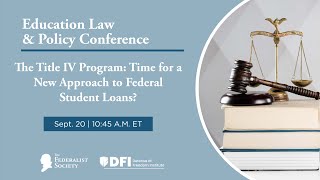 Education Law & Policy Conference
Featuring: Elizabeth Akers, Senior Fellow, American Enterprise Institute Matt Chingos, Vice President, Urban Institute Preston Cooper,...