Matthew M. Chingos directs the Center on Education Data and Policy at the Urban Institute. He leads a team of scholars who undertake policy-relevant research on issues from prekindergarten through postsecondary education and create tools such as Urban's Education Data Portal.
Chingos is coauthor of Game of Loans: The Rhetoric and Reality of Student Debt and Crossing the Finish Line: Completing College at America's Public Universities. He has testified before Congress, and his work has been featured in media outlets such as the New York Times, the Washington Post, and NPR.
Before joining Urban, Chingos was a senior fellow at the Brookings Institution. He received a BA in government and economics and a PhD in government from Harvard University.
*****
A person listed as a contributor has spoken or otherwise participated in Federalist Society events, publications, or multimedia presentations. A person's appearance on this list does not imply any other endorsement or relationship between the person and the Federalist Society. In most cases, the biographical information on a person's "contributor" page is provided directly by the person, and the Federalist Society does not edit or otherwise endorse that information. The Federalist Society takes no position on particular legal or public policy issues. All expressions of opinion by a contributor are those of the contributor.
Education Law & Policy Conference
Marriott Marquis
901 Massachusetts Ave NW
Washington, DC 2001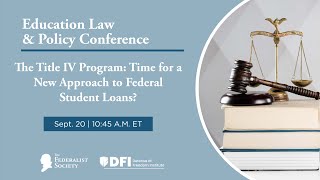 Education Law & Policy Conference
Featuring: Elizabeth Akers, Senior Fellow, American Enterprise Institute Matt Chingos, Vice President, Urban Institute Preston Cooper,...