Diane Auer Jones recently retired from a thirty-year career as an educator, scientist, administrator, and public policy official.  Although she began her career as a nursing assistant, upon completion of undergraduate and graduate degrees in biology and applied molecular biology, she worked as a molecular biology research and later as the founding director of an EPA-certified analytical chemistry laboratory.  Through an adjunct faculty position at the Community College of Baltimore County (CCBC), she realized that working with students was her true passion and she joined the full-time faculty at CCBC.  Over the course of her career, her work in higher education also included leadership positions at Princeton University, The Washington Campus and Career Education Corporation.  Despite her passion for teaching, after serving as a program director at the National Science Foundation, Diane's career focus shifted to science and education policy.  She subsequently served as a professional staffer and acting staff director for the Research Subcommittee of the House Committee on Science and Technology and as the deputy to the associate director for science at the White House Office of Science and Technology Policy.  She was nominated by President George W. Bush, and confirmed by the Senate, to serve as the assistant secretary for post-secondary education at the U.S. Department of Education.  She returned to the U.S. Department of Education to conclude her career, serving as the principal deputy undersecretary delegated the duties of undersecretary during the Donald J. Trump administration.  
*****
A person listed as a contributor has spoken or otherwise participated in Federalist Society events, publications, or multimedia presentations. A person's appearance on this list does not imply any other endorsement or relationship between the person and the Federalist Society. In most cases, the biographical information on a person's "contributor" page is provided directly by the person, and the Federalist Society does not edit or otherwise endorse that information. The Federalist Society takes no position on particular legal or public policy issues. All expressions of opinion by a contributor are those of the contributor.
Education Law & Policy Conference
Marriott Marquis
901 Massachusetts Ave NW
Washington, DC 2001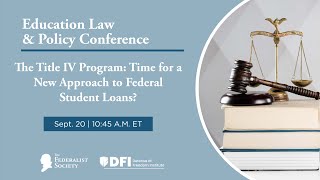 Education Law & Policy Conference
Featuring: Elizabeth Akers, Senior Fellow, American Enterprise Institute Matt Chingos, Vice President, Urban Institute Preston Cooper,...