Secretary Spencer Abraham is Chairman & CEO of The Abraham Group.
He served as the tenth Secretary of Energy of United States from 2001-2005. He helped President George W. Bush devise America's first national energy plan in over a decade and oversaw its implementation. As part of this plan, he led efforts to broaden America's international energy partnerships as well as forge closer ties to key oil producing nations.
Secretary Abraham has been a close observer of world energy markets, and under his leadership the Department of Energy conducted a number of important short and long-term studies of world oil, gas, electricity and other markets.
According to the Presidential Management Agenda scorecard, the Department of Energy went from "worst to first" of well-run agencies under Secretary Abraham's leadership.
Prior to being a Cabinet Member, Secretary Abraham served as an effective and highly productive U.S. Senator from Michigan for six years. In the Senate, he was a member of the Senate Commerce, Judiciary and Budget Committees and served as chairman of the Senate Immigration Subcommittee and the Senate Commerce Subcommittee on Manufacturing and Competitiveness. He was also a senior official in the Administration of former President George H.W. Bush as Deputy Chief of Staff to the Vice President.
Secretary Abraham is a member of the Board of Directors of Occidental Petroleum, NRG Energy, PBF Energy, Uranium Energy Corp and Two Harbors Investment Corporation.
In addition, he is a frequent commentator on FOX News, CNN and Bloomberg TV as well as a periodic contributor of op-ed articles to the Financial Times, The Wall Street Journal, The Washington Post, The Weekly Standard and other publications.
Spencer Abraham and his wife, Jane, are the parents of adult children. He holds a law degree from Harvard University, where he co-founded the Federalist Society, and is a native of East Lansing, Michigan.
*****
A person listed as a contributor has spoken or otherwise participated in Federalist Society events, publications, or multimedia presentations. A person's appearance on this list does not imply any other endorsement or relationship between the person and the Federalist Society. In most cases, the biographical information on a person's "contributor" page is provided directly by the person, and the Federalist Society does not edit or otherwise endorse that information. The Federalist Society takes no position on particular legal or public policy issues. All expressions of opinion by a contributor are those of the contributor.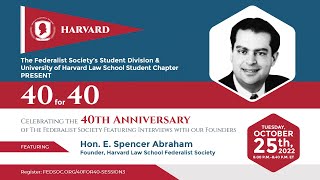 Harvard Law School Student Chapter
The Federalist Society's Student Division &Harvard Law School Student Chapterpresent 40 FOR 40:Celebrating the 40th...