Danielle currently serves as Legal Advisor to Commissioner Carr.  Prior to joining Commissioner Carr's Office, Danielle was a communications attorney in the Washington, D.C. office of Wilkinson Barker Knauer, LLP where she focused on a wide variety of regulatory, policy, and transactional issues, with a special focus on infrastructure, public safety, and spectrum policy. After attending the University of Virginia for her undergraduate degree, Danielle earned her J.D. cum laude from the Catholic University of America's Columbus School of Law where she was Associate Editor of the Catholic University Law Review. She also earned a certificate from the Columbus School of Law's Law & Technology Institute.
*****
A person listed as a contributor has spoken or otherwise participated in Federalist Society events, publications, or multimedia presentations. A person's appearance on this list does not imply any other endorsement or relationship between the person and the Federalist Society. In most cases, the biographical information on a person's "contributor" page is provided directly by the person, and the Federalist Society does not edit or otherwise endorse that information. The Federalist Society takes no position on particular legal or public policy issues. All expressions of opinion by a contributor are those of the contributor.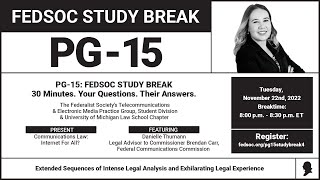 The Federalist Society's Telecommunications & Electronic Media Practice Group, Student Division & University of Michigan Law School Chapter...