Aram A. Gavoor is a nationally recognized scholar in the fields of administrative law, federal courts, and national security law. His co-authored work was cited by the Supreme Court of the United States in Department of Commerce v. New York (2019). His scholarship has earned placement in the Florida Law Review, Indiana Law Journal, Ohio State Law Journal, Administrative Law Review, and other law journals. In 2021, The National Law Journal named Associate Dean Gavoor a DC Rising Star honoree.
In his prior roles in the U.S. Department of Justice and in private practice, he litigated federal court appellate and trial cases involving high-profile challenges to statutes, regulations, and policies. He received The Attorney General's Award for Distinguished Service in 2019, a Commendation from the Human Rights and Special Prosecutions Section of the Criminal Division in 2018, and the Civil Division Special Commendation Award in 2020, 2019, and 2018. Associate Dean Gavoor has briefed and argued over a dozen cases before a majority of the United States Courts of Appeals. He has litigated in nearly a third of the 94 United States District Courts.
*****
A person listed as a contributor has spoken or otherwise participated in Federalist Society events, publications, or multimedia presentations. A person's appearance on this list does not imply any other endorsement or relationship between the person and the Federalist Society. In most cases, the biographical information on a person's "contributor" page is provided directly by the person, and the Federalist Society does not edit or otherwise endorse that information. The Federalist Society takes no position on particular legal or public policy issues. All expressions of opinion by a contributor are those of the contributor.
30 Minutes. Your Questions. Their Answers.
2021 National Lawyers Convention
The Mayflower Hotel
1127 Connecticut Avenue, NW
Washington, DC 20036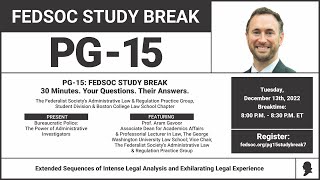 30 Minutes. Your Questions. Their Answers.
The Federalist Society's Administrative Law & Regulation Practice Group, Student Division & Boston College Law School...