The Federalist Paper, Summer 2019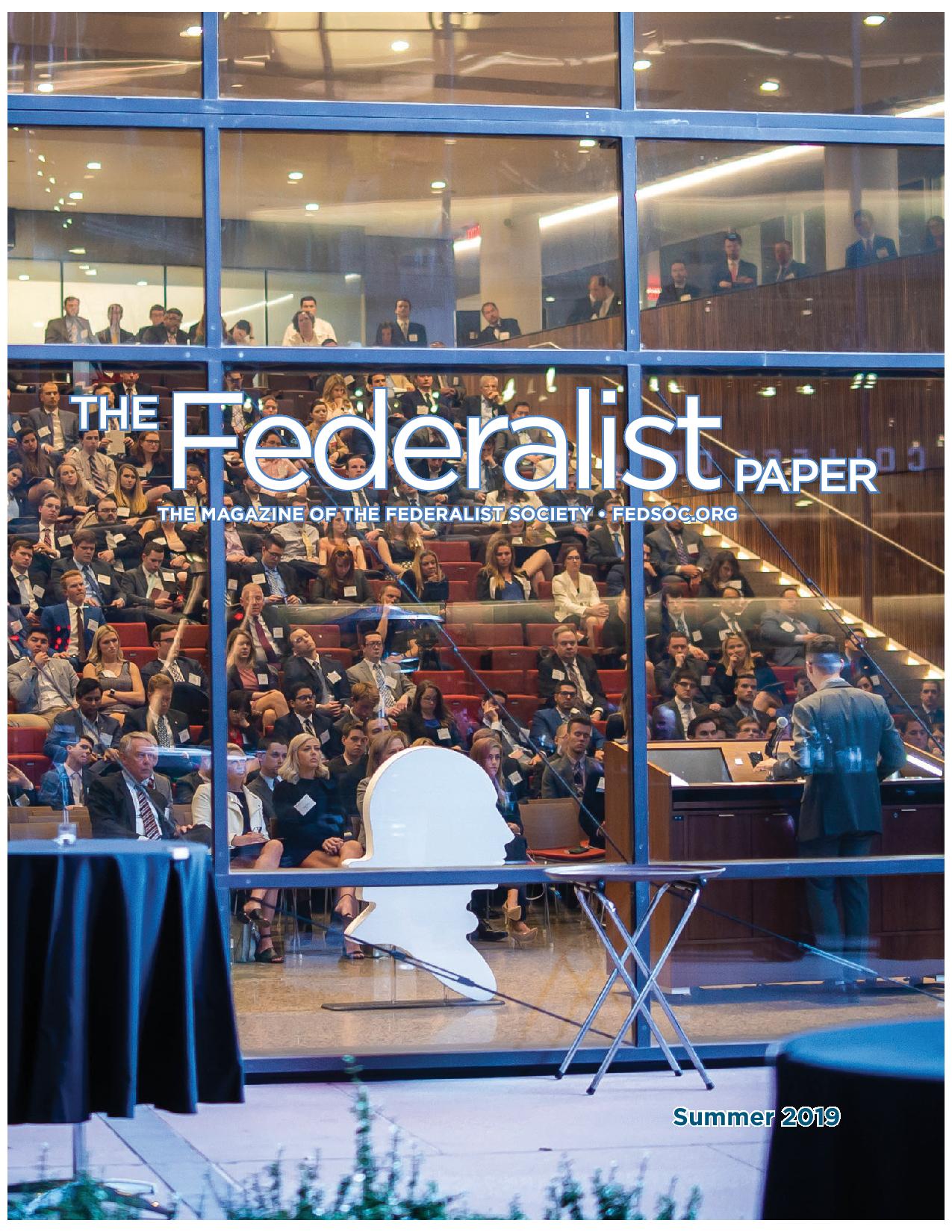 The Federalist Paper
On March 15–16, the Federalist Society student chapter at Arizona State University's Sandra Day O'Connor College of Law hosted the 38th National Student Symposium on "The Resurgence of Economic Liberty." The conference featured opening remarks by Symposium Chair Grant Frazier and Douglas Sylvester, dean of the law school. Prof. Richard A. Epstein then gave a spirited lecture on "Is Lochner v. New York Constitutionally Indefensible?" before the first panel on "The Original Understanding of 'Privileges or Immunities.'" The opening night concluded with the presentation of the Second Annual Article I Writing Contest award to Deion Kathawa, Notre Dame Law School. Read more about his awardwinning essay on page 14. Day two of the symposium continued with the theme as students attended panels on economic protectionism, blockbain-backed cryptocurrency, and federalism. The annual banquet featured the presentation of the Joseph Story Award to Prof. Samuel Bray, Notre Dame Law School, (learn more on page 6) and a fireside chat with Arizona Governor Doug Ducey and Senator Jon Kyl. Learn more about the Symposium on pages 10 and 11, and watch videos from all the panels and talks at fedsoc.org/symposium. See this year's Feddie Award winners and learn more about other student events on pages 12 and 13.
The Third Annual Ohio Chapters Conference occured on April 5 in Columbus, featuring opening remarks by Hon. Alice Batchelder and a keynote address by Solicitor General Noel Francisco. Learn more about this great event and other Lawyers Chapter programs on four and five.
The Fifth Annual Texas Chapters Conference will take place on September 13-14 in Austin, TX. Sen. Ted Cruz will deliver the Second Annual Gregory S. Coleman Memorial Lecture. Registration is now open.
Learn about the latest Faculty and Practice Groups programs on pages 6 through 9, including the Inaugural Thomas M. Cooley Judicial Lecture featuring the Hon. Joan Larsen and the Seventh Annual Exeuctive Branch Review Conference on "Regulatory Reform 'Report Card.'" This year's conference featured an address by Hon. Mick Mulvaney, acting White House Chief of Staff, and keynote remarks by Vice President Mike Pence. You can watch both addresses and all the panels at fedsoc.org/ebr7.
Don't miss other updates from our Regualtory Transparency Project (page 17) and Digital team (page 15). We hope you enjoy this issue of the Federalist Paper. Stay in touch with us on social media, and please send comments to info@fedsoc.org. We look forward to hearing from you!