Federalist Society Review, Volume 19
Federalist Society Review, Volume 19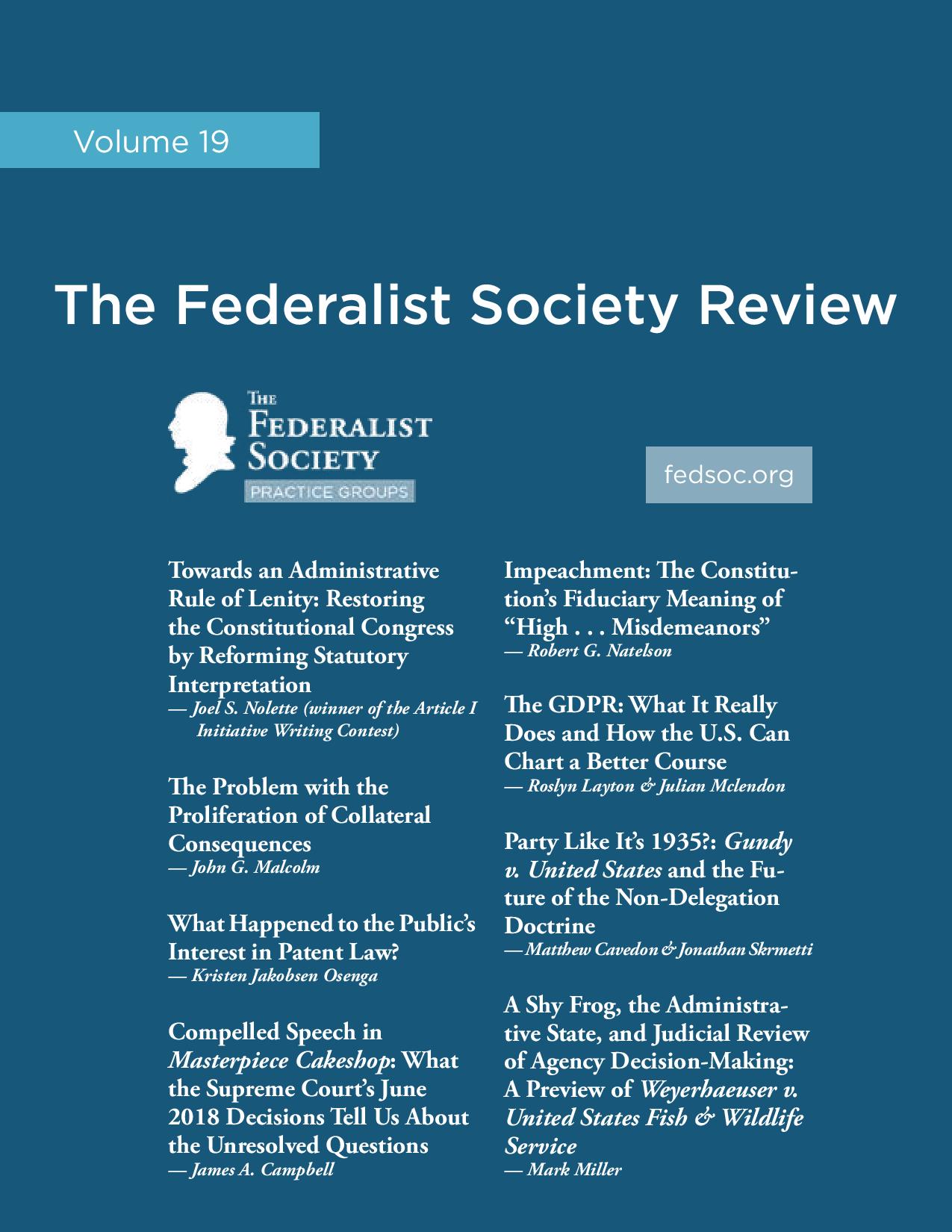 Federalist Society Review
The Federalist Society Review is the legal journal produced by the Federalist Society's Practice Groups. The Review was formerly known as Engage, and although the name has changed, it still features top-notch scholarship on important legal and public policy issues from some of the best legal minds in the country.
Review articles are published thanks to the hard work of our fifteen Practice Group Executive Committees and authors who volunteer their time and expertise. The Review seeks to contribute to the marketplace of ideas in a way that is collegial, accessible, intelligent, and original. Articles and full issues are available at fedsoc.org and through the Westlaw database.
We hope that readers enjoy the articles and come away with new information and fresh insights. Please send us any suggestions and responses at info@fedsoc.org.
Administrative Law & Regulation
Independent Review of Procurements Is Worth It: There Is No Support for Hamstringing the GAO Bid Protest Process, by Marcia G. Madsen, David F. Dowd, & Roger V. Abbott
Towards an Administrative Rule of Lenity: Restoring the Constitutional Congress by Reforming Statutory Interpretation, by Joel S. Nolette
FDA Poised to Spoil a Food Fight, Naturally, by Gregory D. Cote
Why DoD Should Adopt a Multi-Cloud IT Strategy, by Marcia G. Madsen, Peter O. Schmidt, Luke P. Levasseur, & David F. Dowd
Party Like It's 1935?: Gundy v. United States and the Future of the Non-Delegation Doctrine, by Matthew Cavedon & Jonathan Skrmetti
Deference to Agency Rule Interpretations: Problems of Expanding Constitutionally Questionable Authority in the Administrative State, by Ronald A. Cass
Civil Rights
The Student Right to Counsel, by KC Johnson & Mike S. Adams
Criminal Law & Procedure
The Problem with the Proliferation of Collateral Consequences, by John G. Malcolm
Environmental Law & Property Rights
Extraterritorial Ambition: State Energy Taxes and the Question of Imported Electricity, by Daniel A. Himebaugh
A Shy Frog, the Administrative State, and Judicial Review of Agency Decision-Making: A Preview of Weyerhaeuser v. United States Fish & Wildlife Service, by Mark Miller
Will We Soon Have Clarity on Navigable Waters?: How the Supreme Court's October 2017 Term Set the Stage, by Tony Francois
Federalism & Separation of Powers
Counting to Two Thirds: How Close Are We to a Convention for Proposing Amendments to the Constitution?, by Robert G. Natelson
The Founders Interpret the Constitution: The Division of Federal and State Powers, by Robert G. Natelson
Impeachment: The Constitution's Fiduciary Meaning of "High . . . Misdemeanors," by Robert G. Natelson
Why Constitutional Lawyers Need to Know Latin, by Robert G. Natelson
Did the Constitution Grant the Federal Government Eminent Domain Power?: Using Eighteenth Century Law to Answer Constitutional Questions, by Robert G. Natelson
"Advice" in the Constitution's Advice and Consent Clause: New Evidence from Contemporaneous Sources, by Robert G. Natelson
Free Speech & Election Law
Partisan Gerrymandering and Party Rights: Why Gill v. Whitford Undermines All Future Partisan-Gerrymandering Claims, by Richard Raile
Minnesota Voters Alliance v. Mansky Strikes Down a Vague Ban on Speech in Polling Places, But Future Bans May Be Upheld, by Michael R. Dimino
Compelled Speech in Masterpiece Cakeshop: What the Supreme Court's June 2018 Decisions Tell Us About the Unresolved Questions, by James A. Campbell
Intellectual Property
The Supreme Court Tackles Patent Reform: Why the Supreme Court Should End Inter Partes Review in Oil States, by Richard A. Epstein
The Supreme Court Tackles Patent Reform: Further Reflections on the Oil States Case after Oral Argument Before the Supreme Court, by Richard A. Epstein
The Supreme Court Tackles Patent Reform: Inter Partes Review Under the AIA Undermines the Structural Protections Offered by Article III Courts, by Richard A. Epstein
What Happened to the Public's Interest in Patent Law?, by Kristen Jakobsen Osenga
Religious Liberties
Why Nineteenth Century Bans on "Sectarian" Aid Are Facially Unconstitutional: New Evidence on Plain Meaning, by Robert G. Natelson
Telecommunications & Electronic Media
Modernizing the Tribal Consultation Process for Wireless Infrastructure Siting, by Jonathan Adelstein, Wade Lindsay
The GDPR: What It Really Does and How the U.S. Can Chart a Better Course, by Roslyn Layton & Julian Mclendon
Book Reviews
The Supreme Court in Crisis: A Good Read, But No Crisis, by Donald A. Daugherty, reviewing American Justice 2017: The Supreme Court in Crisis, by Kimberly Robinson
Privatization: Boon to Efficiency or Slow Motion Revolution?, by Ted Hirt, reviewing Constitutional Coup: Privatization's Threat to the American Republic, by Jon D. Michaels
Regulating Under the Rule of Law, by J. Kennerly Davis, reviewing How to Regulate: A Guide for Policymakers, by Thomas A. Lambert
Capital Punishment: A One-Sided Contribution to a Complex Debate, by John G. Malcolm, reviewing End of Its Rope: How Killing the Death Penalty Can Revive Criminal Justice, by Brandon L. Garrett
Can Americans Reconcile Our Constitutional System With an Expansive Administrative State?, by Ted Hirt, reviewing Bureaucracy in America: The Administrative State's Challenge to Constitutional Government, by Joseph Postell
Giving Credit for Shaping the Constitution, by Karen Lugo, reviewing The Lives of the Constitution: Ten Exceptional Minds That Shaped America's Supreme Law, by Joseph Tartakovsky
A New Foundation for Property Rights?: A Helpful but Flawed Contribution, by Ilya Somin, reviewing Property and Human Flourishing, by Gregory S. Alexander