Federalist Society Presents 2017 Bator Award
Prof. William Baude, University of Chicago Law School
News
On Saturday, March 4, the Federalist Society presented the 2017 Paul M. Bator Award to Prof. William Baude of the University of Chicago Law School. The award is given annually to a law professor under the age of 40 who has demonstrated excellence in legal scholarship, a commitment to teaching, a concern for students, and who has made a significant public impact.
Prof. Baude received the award at the Federalist Society's annual National Student Symposium, held this year at Columbia Law School. Ms. Victoria Grant, a student at the University of Chicago Law School who served on the selection committee, presented the award.
Prof. Baude teaches federal courts and constitutional law as the University of Chicago Law School's Neubauer Family Assistant Professor of Law, where his current research projects span constitutional law, legal interpretation, and conflicts of law. Additionally, he is an advisor at the Hoover Institution, an Affiliated Scholar at the Center for the Study of Constitutional Originalism, and a member of the American Law Institute, where he has advised on the Third Restatement of the Conflict of Laws.
His work has been published in top law journals, including Harvard Law Review, Yale Law Journal, Columbia Law Review, Stanford Law Review, University of Chicago Law Review, and New York University Journal of Law and Liberty. He is a co-editor of a leading casebook, The Constitution of the United States (3rd ed.), and his shorter writing appears regularly in The Washington Post's "Volokh Conspiracy" blog, as well as occasionally in the New York Times and other online publications.
The Bator Award was established in memory of Prof. Paul M. Bator, a renowned scholar and teacher of federal courts and constitutional law at Harvard and the University of Chicago and Principal Deputy Solicitor General in the Reagan Administration.
In presenting Prof. Baude with the award, Ms. Grant said, "I speak from first-hand experience when I say that Prof. Baude embodies all of the qualities the Federalist Society looks for in the recipient of this award. His "non-stop" body of work promoting originalism and fidelity to the law is exceptional and inspiring, bringing him to the forefront of conservative constitutional law - and indeed of constitutional law period. …But as one of his students, I find that what sets Prof. Baude apart from the multitude of recluse academics permeating our legal institutions is his enthusiastic interactions with his students."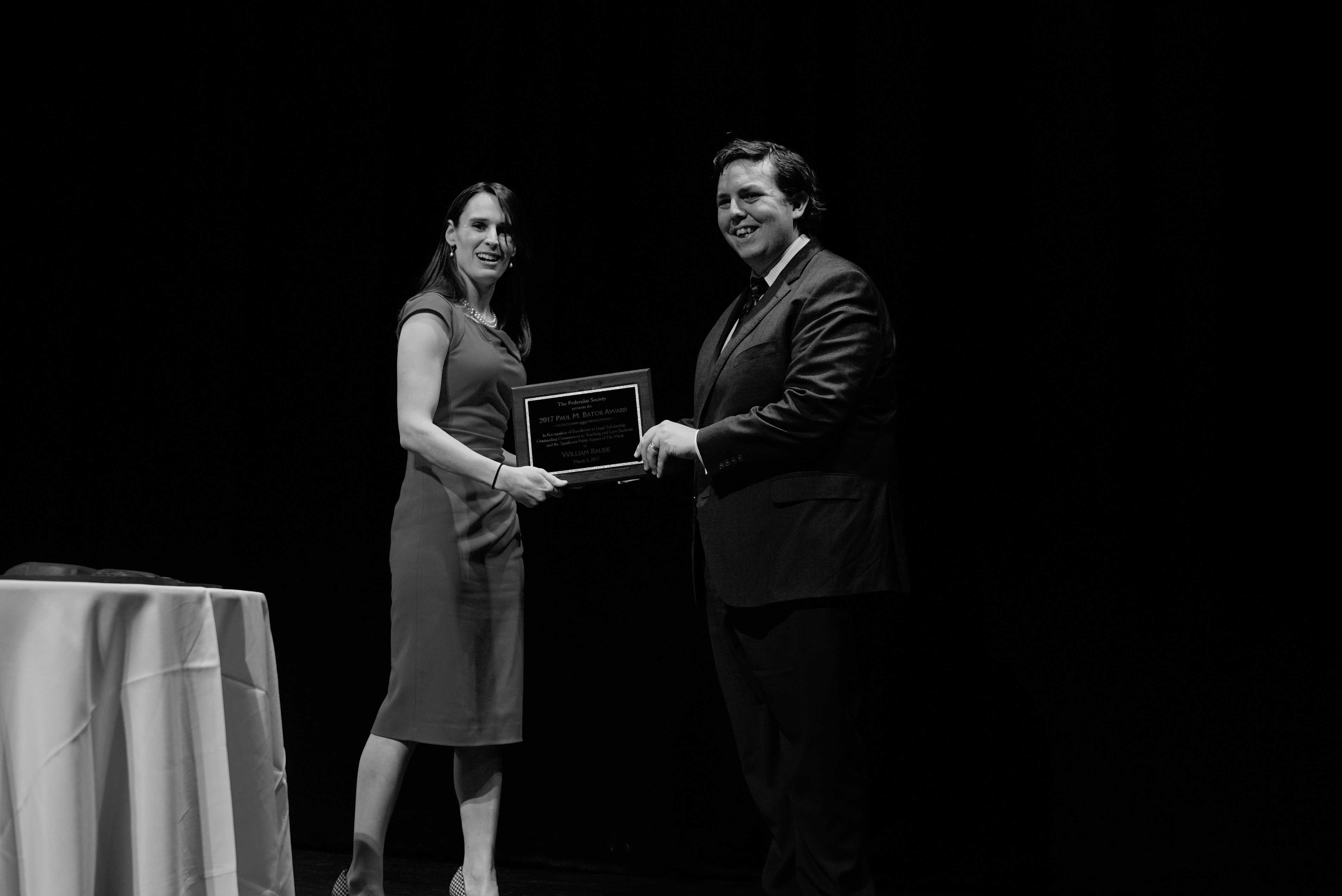 Another student of Prof. Baude said, "One of the reasons he is so popular with all students at Chicago is due to his ability to make every student feel able to express an opinion no matter the viewpoint." She explained, "It is rare to find a professor who genuinely wants students to push back on his ideas, their own ideas, and other students' ideas. In short, he makes us better legal scholars and lawyers."
In accepting the award, Prof. Baude said, "I am honored, grateful, and still a little surprised, to be here. The stereotype of academia is the ivory tower. But being and becoming a law professor is not a lonely process, and I owe thanks to a lot of people, many of whom are in this room." To the students in the room, he added, "It is not exaggerating to say that you are really the reason I do this. If there were no one to write to and no one to teach, I would be doing something else."
Prof. Baude received his undergraduate degree in mathematics from the University of Chicago before earning his J.D. at Yale Law School. Before returning to Chicago as a faculty member in the law school, Prof. Baude was a fellow at the Stanford Constitutional Law Center, a summer fellow at the University of San Diego Law School Center for the Study of Constitutional Originalism, a lawyer at Robbins Russell, LLP in Washington, D.C., and a law clerk for Chief Justice John Roberts on the United States Supreme Court and Judge Michael McConnell on the United States Court of Appeals.
Prof. Baude joins a distinguished group of professors honored with the Bator Award since its creation in 1989.
The University of Chicago Law School's announcement can be read here.