Wendy Long is legal counsel to the Judicial Confirmation Network. Until March 2005, she was a litigation partner in the New York office of Kirkland & Ellis LLP. Wendy was a law clerk to U.S. Supreme Court Justice Clarence Thomas and to Judge Ralph Winter of the U.S. Court of Appeals for the Second Circuit in New York. She is a graduate of Northwestern University School of Law, cum laude and Order of the Coif, where she was articles editor of the Northwestern University Law Review, and of Dartmouth College. She previously served as a press secretary in the U.S. Senate, for former U.S. Senator Bill Armstrong (R-Colo.) and former U.S. Senator Gordon Humphrey (R-N.H.).
*****
A person listed as a contributor has spoken or otherwise participated in Federalist Society events, publications, or multimedia presentations. A person's appearance on this list does not imply any other endorsement or relationship between the person and the Federalist Society. In most cases, the biographical information on a person's "contributor" page is provided directly by the person, and the Federalist Society does not edit or otherwise endorse that information. The Federalist Society takes no position on particular legal or public policy issues. All expressions of opinion by a contributor are those of the contributor.
Michigan Lawyers Chapter
The Detroit Athletic Club
241 Madison Avenue
Detroit, MI 48226
Seton Hall University School of Law One Newark Center
Newark, New Jersey
The Presidency and the Courts
The Hilton Cincinnati Netherland Plaza
35 West Fifth Street
Cincinnati, OH 45202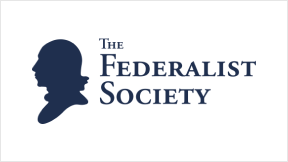 Online Debate
On May 26th, President Obama nominated Sonia Sotomayor to replace David Souter as an Associate...