The New York Times recognized Scott A. Keller as a "prominent lawyer," who "is praised by opponents as a formidable advocate."
Mr. Keller has argued 11 cases before the U.S. Supreme Court and 12 cases before the Texas Supreme Court. He is the only practicing lawyer to have argued at least 10 cases in both courts. Mr. Keller frequently represents parties in high stakes appeals, and he has argued many cases in federal courts of appeals throughout the nation. He has earned individual accolades from the National Law Journal, Law360, The Best Lawyers in America (BL Rankings, 2021), and other publications.
Before founding Lehotsky Keller LLP, Mr. Keller headed Baker Botts LLP's Supreme Court Practice. He also has significant experience at the highest levels in all three branches of government. Mr. Keller served as the Solicitor General of Texas, the State's chief appellate litigator. He was U.S. Senator Ted Cruz's chief counsel on the Senate Judiciary Committee. Mr. Keller was a law clerk for Justice Anthony Kennedy of the Supreme Court of the United States and Chief Judge Alex Kozinski of the U.S. Court of Appeals for the Ninth Circuit. He was also a Bristow Fellow in the U.S. Department of Justice's Office of the Solicitor General.
Mr. Keller represents clients in cases where public communications strategy is crucial, and he has made numerous media appearances in major outlets such as the New York Times, the Wall Street Journal, BBC, Fox News, NPR, and Politico. As a sought after speaker and writer, Mr. Keller's articles have appeared in the Stanford Law Review, Virginia Law Review, and Texas Law Review. He has also served as an adjunct professor of constitutional litigation, Supreme Court practice, and federal courts at the University of Texas School of Law.
*****
A person listed as a contributor has spoken or otherwise participated in Federalist Society events, publications, or multimedia presentations. A person's appearance on this list does not imply any other endorsement or relationship between the person and the Federalist Society. In most cases, the biographical information on a person's "contributor" page is provided directly by the person, and the Federalist Society does not edit or otherwise endorse that information. The Federalist Society takes no position on particular legal or public policy issues. All expressions of opinion by a contributor are those of the contributor.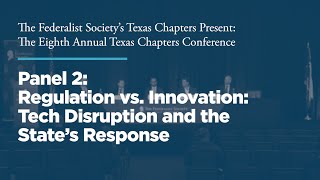 Eighth Annual Texas Chapters Conference
Technological change has accelerated significantly over the past decade, while government regulations affecting technology have...