Judge Ryan T. Holte was sworn in as a judge on the United States Court of Federal Claims in July 2019.  Prior to confirmation he served as the David L. Brennan Professor of Law and Director of the Center for Intellectual Property Law and Technology at The University of Akron School of Law (2017-2019) and an assistant professor of law at Southern Illinois University School of Law (2013-2017).  Judge Holte has written and presented widely on patent law subjects and empirical legal studies of Federal Circuit and district court patent law cases.  His most recent articles were published in the Iowa Law Review (2019), George Mason Law Review (2018), and Washington Law Review (2017).
In practice, Judge Holte served for six years as general counsel and partner of an electrical engineering technology company and is co-inventor of multiple patents related to Systems and Methods for Countering Satellite-Navigated Munitions.  Prior to entering academia, Judge Holte practiced as a litigation attorney at the Federal Trade Commission and an associate in the Intellectual Property Practice Group at Jones Day.  Prior to practice, he served as a law clerk to Judge Stanley F. Birch, Jr. on the United States Court of Appeals for the Eleventh Circuit and as a law clerk to Judge Loren A. Smith on the United States Court of Federal Claims.
Judge Holte received his JD from the University of California Davis School of Law and his BS, magna cum laude, in engineering from the California Maritime Academy where he was a First Class graduate of the Corps of Cadets Third Engineering Division and sailed as a U.S. Merchant Marine oiler.
*****
A person listed as a contributor has spoken or otherwise participated in Federalist Society events, publications, or multimedia presentations. A person's appearance on this list does not imply any other endorsement or relationship between the person and the Federalist Society. In most cases, the biographical information on a person's "contributor" page is provided directly by the person, and the Federalist Society does not edit or otherwise endorse that information. The Federalist Society takes no position on particular legal or public policy issues. All expressions of opinion by a contributor are those of the contributor.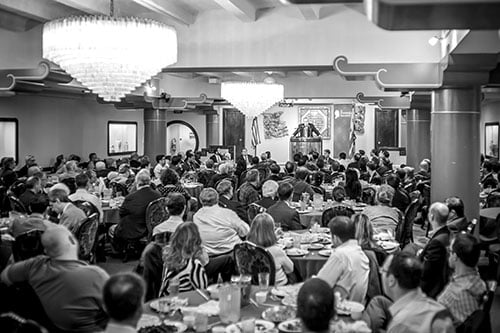 American Student Chapter
American University Washington College of Law
4300 Nebraska Ave. NW
Washington, DC 20016
Cleveland Lawyers Chapter & Ohio Young Lawyers Chapter
Cleveland Metropolitan Conference Center - St. Clair Room
1375 E. 9th St
Cleveland, OH 44144
2022 National Lawyer's Convention
As global crises abound, from pandemics to war, society cries out for myriad new technologies,...