Richard J. Sullivan was sworn in as a United States Circuit Court Judge for the Second Circuit in October 2018. Before that, Judge Sullivan served for eleven years as a United States District Judge for the Southern District of New York. Prior to becoming a judge, he served as the General Counsel and Managing Director of Marsh Inc., the world's leading risk management and insurance brokerage firm. From 1994 to 2005, he served as an Assistant United States Attorney in the Southern District of New York, where he was Chief of the International Narcotics Trafficking Unit and Director of the New York/New Jersey Organized Crime Drug Enforcement Task Force. In 2003, he was awarded the Henry L. Stimson Medal from the Association of the Bar of the City of New York. In 1998, he was named the Federal Law Enforcement Association's Prosecutor of the Year. Prior to joining the U.S. Attorney's Office, he was a litigation associate at Wachtell, Lipton, Rosen & Katz in New York and a law clerk to the Honorable David M. Ebel of the United States Court of Appeals for the 10th Circuit. He is a graduate of Yale Law School, the College of William & Mary, and Chaminade High School on Long Island. From 1986 to 1987, he served as a New York City Urban Fellow under New York City Police Commissioner Benjamin Ward. Judge Sullivan is on the executive board of the New York American Inn of Court and the Center for Law and Religion at St. John's University School of Law. He is an adjunct professor at Columbia Law School, where he teaches courses on sentencing and jurisprudence, and he previously served as an adjunct professor at Fordham Law School, where he taught courses on white collar crime and trial advocacy and was named Adjunct Professor of the Year.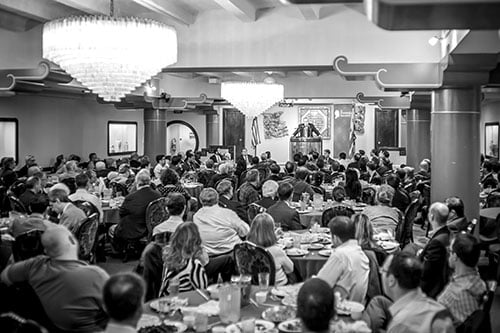 St. John's Student Chapter
St. John's University School of Law
8000 Utopia Parkway
Jamaica, NY 11439
Fordham Student Chapter
Fordham University School of Law
Room 3-01, 150 West 62nd Street, New York, NY 10023
New York City, NY 10023
Columbia Student Chapter
Columbia Law School
435 W 116th St
New York, NY 10027
Pete's Tavern (Speakeasy Room)
129 E. 18th Street
New York, NY 10003
Harding's
32 E 21st St
New York, NY 10010
2017 National Student Symposium
Congress' passage of the Bipartisan Campaign Reform Act of 2002 did not end the debate...