Mary Rice Hasson, J.D., is the Kate O'Beirne Senior Fellow at the Ethics and Public Policy Center in Washington, D.C. She directs the Catholic Women's Forum, a network of Catholic professional women and scholars, and co-founded the Person and Identity Project, a new initiative that equips parents and faith-based institutions to counter gender ideology and promote the truth of the human person. An attorney and policy expert, Mary served as keynote speaker for the Holy See during the United Nations Commission on the Status of Women, addressing education (2018), women and work (2017), caregiving (2019), and gender ideology (2019). She currently serves as a consultant to the U.S. Conference of Catholic Bishops' Committee on Laity, Marriage, Family, Life and Youth.
Mary speaks frequently in national and international venues on topics related to gender ideology, parental rights, religious liberty, and culture. She is frequently called upon to provide expert counsel on federal and state legislation and, in 2021, testified before the U.S. Senate Judiciary Committee against the Equality Act and before the Australian Parliament, New South Wales, in support of parental rights legislation.
She has co-authored several books on education, including Get Out Now: Why You Should Pull Your Child From Public School Before It's Too Late (Regnery 2018), and her writing has appeared in a variety of policy journals, scholarly publications, and traditional media includings The Wall Street Journal, Newsweek, First Thing, National Review Online, and the National Catholic Register, among others. She is a frequent media commentator in both religious and secular media.
A graduate of the University of Notre Dame and Notre Dame Law School, Mary and her husband Seamus Hasson have seven grown children and two grandchildren.
*****
A person listed as a contributor has spoken or otherwise participated in Federalist Society events, publications, or multimedia presentations. A person's appearance on this list does not imply any other endorsement or relationship between the person and the Federalist Society. In most cases, the biographical information on a person's "contributor" page is provided directly by the person, and the Federalist Society does not edit or otherwise endorse that information. The Federalist Society takes no position on particular legal or public policy issues. All expressions of opinion by a contributor are those of the contributor.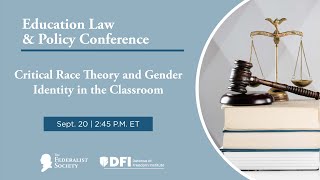 Featuring: Max Eden, Research Fellow, American Enterprise Institute Mary Hasson, Fellow, Catholic Studies Program at...