Eric Kadel is engaged in a wide variety of corporate, transactional and regulatory matters. He is a member of the Firm's Corporate and Finance, Financial Services, Investment Management, Alternative Investment Management, Cybersecurity, and Commodities, Futures and Derivatives Groups. With regard to financings, Mr. Kadel regularly represents participants in capital markets transactions, and dealers and end users in connection with structuring and documenting a wide variety of swaps and other derivatives, including equity, credit default and commodity swaps, options and forwards. Mr. Kadel's work in the investment management area includes advising public and private investment companies and investment advisers on a wide variety of transactional, regulatory, compliance and other matters, including registration and regulation. Mr. Kadel also advises clients of the Firm regarding developments in the laws regulating the financial services industry and on cybersecurity issues. Mr. Kadel is currently an adjunct professor at George Washington University Law School.
In addition, Mr. Kadel is one of the principal partners in the Firm's International Trade and Investment practice. He counsels and represents clients on questions about U.S. economic sanctions, including those administered by the Treasury Department's Office of Foreign Assets Control ("OFAC"), United States antiboycott requirements under the Export Administration Regulations administered and enforced by the Commerce Department's Office of Antiboycott Compliance within the Bureau of Industry and Security, Bank Secrecy Act/anti‐money laundering laws and the U.S. Foreign Corrupt Practices Act ("FCPA"). Mr. Kadel's practice includes analysis of proposed transactions and business relationships; due diligence and design and review of compliance procedures and strategies; and internal investigations, voluntary disclosures and government enforcement actions. Mr. Kadel also regularly advises clients regarding questions arising under Exon-Florio and the transaction review process administered by the Committee on Foreign Investment in the United States ("CFIUS"), and has represented clients before CFIUS on many national security reviews.
*****
A person listed as a contributor has spoken or otherwise participated in Federalist Society events, publications, or multimedia presentations. A person's appearance on this list does not imply any other endorsement or relationship between the person and the Federalist Society. In most cases, the biographical information on a person's "contributor" page is provided directly by the person, and the Federalist Society does not edit or otherwise endorse that information. The Federalist Society takes no position on particular legal or public policy issues. All expressions of opinion by a contributor are those of the contributor.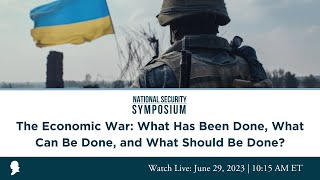 The Russia-Ukraine War has been fought not just with bullets, bombs, and bytes, but also...