Dr. Oonagh McDonald, CBE is currently a senior adviser to Crito Capital, a private placement company based in New York.
A former British Member of Parliament, she became an international expert in financial regulation, after losing her seat in the General Election, 1987. She worked with the Asian Development Bank, advising regulatory authorities in a number of countries, including Sri Lanka and Indonesia. More recently, she has worked with USAID in Ukraine and Moldova. She has served as a non-executive director on the board of both financial services companies and regulatory authorities. In 1998, she was awarded the CBE (Commander of the British Empire), a national honor by the Queen for her work in financial regulation.
She is the author of numerous articles and seven books, of which the most recent are: "Holding bankers to account: A decade of market manipulation, regulatory failures and regulatory reforms" (Manchester University Press, 2019) and "Cryptocurrencies: Money, Trust and Regulation" (Agenda Publishing, 2021).
*****
A person listed as a contributor has spoken or otherwise participated in Federalist Society events, publications, or multimedia presentations. A person's appearance on this list does not imply any other endorsement or relationship between the person and the Federalist Society. In most cases, the biographical information on a person's "contributor" page is provided directly by the person, and the Federalist Society does not edit or otherwise endorse that information. The Federalist Society takes no position on particular legal or public policy issues. All expressions of opinion by a contributor are those of the contributor.
America's Square
300 New Jersey Ave NW
Washington, DC 20001
A Regulatory Transparency Project Webinar
Teleforum
Financial Services Practice Groups and Regulatory Transparency Project Teleforum
Teleforum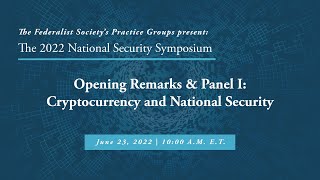 Cryptocurrencies have in many ways seized the public imagination. And there are many potential benefits to...