Damon A. Silvers is the Director of Policy and Special Counsel for the AFL-CIO. He joined the AFL-CIO as Associate General Counsel in 1997.
Mr. Silvers serves on a pro bono basis as a Special Assistant Attorney General for the state of New York. Mr. Silvers is also a member of the Investor Advisory Committee of the Securities and Exchange Commission, the Treasury Department's Financial Research Advisory Committee, the Public Company Accounting Oversight Board's Standing Advisory Group and its Investor Advisory Group.
Mr. Silvers served as the Deputy Chair of the Congressional Oversight Panel for TARP from 2008 to 2011. Between 2006 and 2008, Mr. Silvers served as the Chair of the Competition Subcommittee of the United States Treasury Department Advisory Committee on the Auditing Profession and as a member of the United States Treasury Department Investor's Practice Committee of the President's Working Group on Financial Markets.
Prior to working for the AFL-CIO, Mr. Silvers worked for the Harvard Union of Clerical and Technical Workers, the Amalgamated Clothing and Textile Workers, and as a law clerk at the Delaware Court of Chancery for Chancellor William T. Allen and Vice-Chancellor Bernard Balick.
*****
A person listed as a contributor has spoken or otherwise participated in Federalist Society events, publications, or multimedia presentations. A person's appearance on this list does not imply any other endorsement or relationship between the person and the Federalist Society. In most cases, the biographical information on a person's "contributor" page is provided directly by the person, and the Federalist Society does not edit or otherwise endorse that information. The Federalist Society takes no position on particular legal or public policy issues. All expressions of opinion by a contributor are those of the contributor.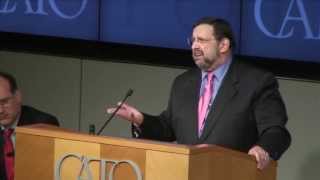 Federalist Society Faculty Division and The Cato Institute
Trust and reputation are central to the operation of capital markets. But in our generation,...