Bob Barr represented the 7th District of Georgia in the U. S. House of Representatives from 1995 to 2003, and was the 2008 Libertarian Party nominee for President of the United States. He practices law with the Law Offices of Edwin Marger, and runs a consulting firm, Liberty Strategies, Inc., headquartered in Atlanta, Georgia. Barr is a registered Mediator and Arbitrator.

From 2003 to 2008, he occupied the21st Century Liberties Chair for Freedom and Privacyat the American Conservative Union, and now is a member of The Constitution Project's Initiative on Liberty and Security. From 2003 to 2005 Bob was a member of a project at Harvard University's Kennedy School of Government addressing matters of privacy and security. Barr serves as a board member for Privacy International, a privacy watchdog group headquartered in London. Recognizing Bob Barr's leadership in privacy matters, formerNew York Timescolumnist William Safire called him "Mr. Privacy."

Bob serves on the boards of directors for the National Rifle Association and 1Force, a company providing domestic and international security. He is a national officer for Tau Kappa Epsilon Fraternity.

Bob has appeared on virtually every major cable and network television program dealing with public policy matters, and has served as a contributor for CNN. He writes a weekly column for theAtlanta Journal-Constitutionand regular blogs for the AJC ("The Barr Code"). Bob writes occasional pieces for other publications as well, and has hosted a nationally-syndicated weekly radio show. He is the author of three books: "The Meaning of Is: The Squandered Impeachment and Wasted Legacy of William Jefferson Clinton," "Patriot Nation: Bob Barr's Laws of the Universe Volume One," and "Lessons in Liberty." He is a member of the boards of advisors for law reviews at Georgetown University Law Center and the University of Texas Law School; and he teaches constitutional law at John Marshall Law School in Atlanta, Georgia.

Bob was appointed by President Reagan as the United States Attorney for the Northern District of Georgia (1986-90), and served as President of Southeastern Legal Foundation (1990-91). He was an official with the CIA from 1971-78. Additionally, he served as an official member of the U.S. delegation at several major United Nations conferences.

Bob Barr was awarded his law degree from Georgetown University; his master's degree from The George Washington University and his bachelor's degree from the University of Southern California. He and his wife Jeri live just outside Atlanta, Georgia.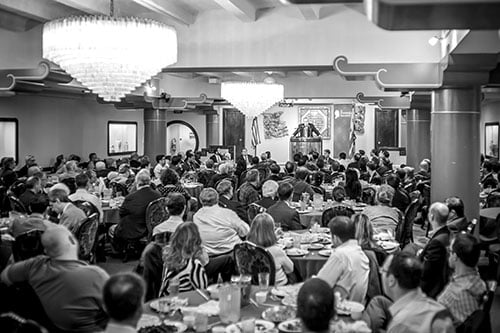 Southern California Student Chapter
USC Gould School of Law
699 W Exposition Blvd
Los Angeles, CA 90089
Chicago Lawyers Chapter
The Chicago Lawyers Chapter hosted this debate on "Balancing Individual Rights and National Security" at...