Federalist Society Review, Volume 20
Federalist Society Review, Volume 20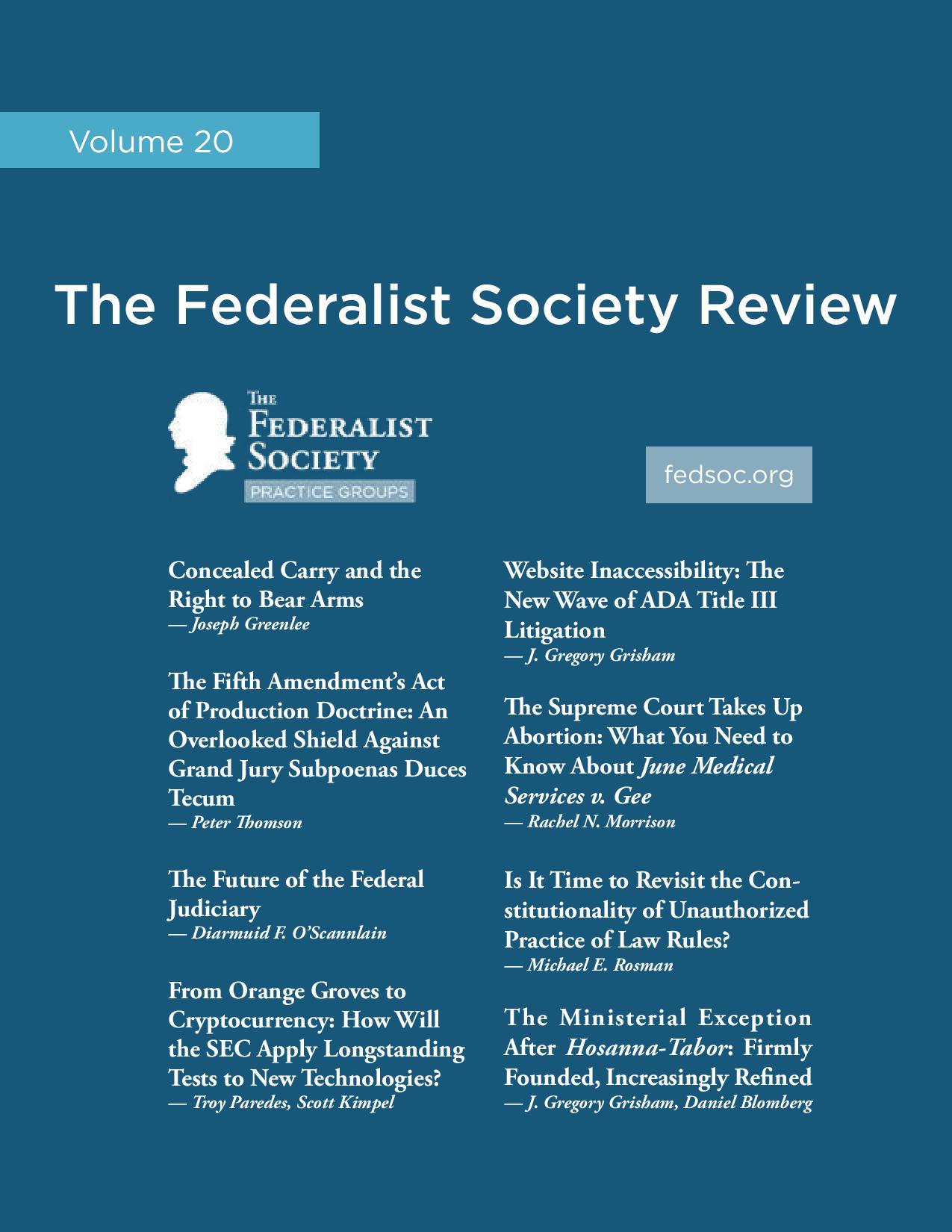 Federalist Society Review
The Federalist Society Review is the legal journal produced by the Federalist Society for Law & Public Policy Studies. The Review features excellent scholarship on important legal and public policy issues from some of the best legal minds in the country.
Review articles are published thanks to the hard work of our fifteen Practice Group Executive Committees and authors who volunteer their time and expertise. The Review seeks to contribute to the marketplace of ideas in a way that is collegial, accessible, intelligent, and original. Articles are available at fedsoc.org and through the Westlaw database.
We hope that readers enjoy the articles and come away with new information and fresh insights. Please send us any suggestions and responses at info@fedsoc.org.
Table of Contents
The Fifth Amendment's Act of Production Doctrine: An Overlooked Shield Against Grand Jury Subpoenas Duces Tecum, by Peter Thomson
Can and Should the Federal Judiciary Rein In Our Expansive Administrative State? by Ted Hirt
Lessons in Reading Law: Rimini Street's Duel Over "Full Costs" by Joel S. Nolette
John Marshall's Jurisprudence Supports Preemption of California's Net Neutrality Law, by Randolph J. May, Seth L. Cooper
Concealed Carry and the Right to Bear Arms, by Joseph Greenlee
Protecting Individual Liberty Through State Constitutional Law: Judge Sutton's Plea for Federalism in Judicial Decisionmaking, by John C. O'Quinn, Jason M. Wilcox
The Tenacity of Transformation Theory, and Why Constitutional History Deserves Better, by Stephen B. Presser
Can a New Establishment Clause Jurisprudence Succeed in Protecting Religious Minorities Where Lemon Has Failed? by Alexandra M. McPhee
From Orange Groves to Cryptocurrency: How Will the SEC Apply Longstanding Tests to New Technologies? by Troy Paredes, Scott Kimpel
Website Inaccessibility: The New Wave of ADA Title III Litigation, by J. Gregory Grisham
Is It Time to Revisit the Constitutionality of Unauthorized Practice of Law Rules? by Michael E. Rosman
The Ministerial Exception After Hosanna-Tabor: Firmly Founded, Increasingly Refined, by J. Gregory Grisham, Daniel Blomberg
More News on Powers Reserved Exclusively to the States, by Robert G. Natelson
Whistling in Chevronland: Why Department of Labor Interpretations of the Sarbanes-Oxley Act Whistleblower Provisions Do Not Deserve Judicial Deference, by Donn C. Meindertsma
Have the American People Irrevocably Ceded Control of Their Government to the Modern Administrative State? by Ted Hirt
Two Views on Criminal Justice Reform: The Author and a Critic on Locked In, by Vikrant P. Reddy, Kent Scheidegger
The Future of the Federal Judiciary, by Diarmuid F. O'Scannlain
The Supreme Court Takes Up Abortion: What You Need to Know About June Medical Services v. Gee, by Rachel N. Morrison
Carpenter v. United States: A Reevaluation of First Principles, One Year On, by Dean A. Mazzone
Civility, Courage, Humility: Lessons In Life and Law From a Justice, by Elizabeth Slattery
National Security, Trade, and China: Risks and Responses in the Internet Age, by Ronald A. Cass
An Unconstitutional Attempt to Address Affordable Housing, by Jeffrey M. Harris
Credentials Not Required: Why an Employee's Significant Religious Functions Should Suffice to Trigger the Ministerial Exception, by Nathaniel M. Fouch, Erik Money, & Thomas C. Berg
Kisor v. Wilkie Makes Auer a Paper Tiger, by Karen Harned, Aeron Von Scoyk